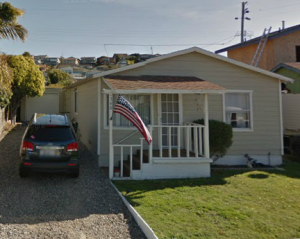 I can't believe it's already September and that I've been in Morro Bay for a whole month now, gloriously enjoying the weather, the air, the ocean and the bay.
In the last few weeks I've affirmed that yes, I'm ready to settle down, create community, and continue to explore how I want to connect and serve in my life.
As much as I love the freedom of RV living, I'm ready to say I live here, to have neighbors and a space to share with new and old friends. But rental houses are far and few between in Los Osos and Morro Bay. And having a dog limits the choices even more.
I have been double and triple checking Craigslist and various realtors sites many times a day, looking, looking, looking for my perfect house.
I even downsized my requirements-from a 2 bedroom to a one bedroom if it had a bonus room or a sunroom or a secondary space for working. It could be in Los Osos OR Morro Bay, and I didn't have to have easy access to the walking along the water right out my front door.
Still, nothing appeared.
Then I saw an ad for a cute 2 bedroom in Morro Bay. I called the number even though it didn't say anything about dogs and the woman said she'd consider pets and would call me either way when they were ready to show the house.
Marika went with me to see it last Friday. It's a 2 bedroom beach bungalow with a yard, washer/dryer hookups, a gas stove and a garage. The landlords are a working couple who live two hours inland and plan to retire in the house at some point, so it is well maintained and cared for. And it has an ocean view!
The master bedroom has great shelves in the closets (for my art supplies) and a sliding glass door to the patio. The smaller bedroom could easily fit my queen bed, side tables and dresser with room to spare. There are ceiling fans in both bedrooms and wall heaters in the master and living room. The kitchen is open to the living room and there's a second door that leads to the fully fenced back yard. There's plenty of storage in the separate laundry room off of the garage. And the yard is buffered on both sides by garages so there's no chance of Laddy being harassed by a neighbor's dog.
More than a dozen people came to see the house while I was there, and they were expecting many more. I filled out my application and told the woman about my very very high credit score and we chatted a little and she said they were fine with a dog. I even showed her a photo of Laddy, standing on a pile of kelp on the beach. I could tell she was overwhelmed with the turnout of people so I thanked her and we left.
Afterwards, I wished I had taken pictures, sketched the floor plan, given her my business card. But I too, was overwhelmed with how many people had come to see the place. There were two young couples with toddlers and babies on the way, a family of five, a young woman with no credit. I wondered if the landlords would be more interested in helping a young family or renting to a mature professional woman with great credit and a dog.
And I wondered if I should call them and tell them how much I really wanted to live in the house.
But I had to let it go.
I asked friends to send up good mojo, while I imagined Laddy and I living in the house. At the same time, I tried not to be too attached to the outcome.
The landlady called the next afternoon to ask a few more questions about my business. She told me I was in the top running but she didn't know how to verify my income since I don't have an employer. I offered to send her a copy of my financials, but she declined. I suggested she take a look at my website to see what I do and how I make my money and she liked that idea. And I was able to tell her that I would really LOVE to live in the house.
Again, I asked my friends for their good wishes. They reminded me to trust the process, to allow THEM to hold the vision for me so I could let it go.
I breathed in their support and tried to stay focused on the present moment, walking along the beach, eating more delicious seafood, enjoying Marika's company.
But I kept thinking how perfect it all was. The house is the right size, in the right location, for the right price. It has everything on my wish list, including invested landlords. And Marika is driving back to Arizona this weekend. If I got the house, I could caravan back with her, then work for a week with clients in Phoenix, load my stuff into a U-Haul and drive my car back, ready to settle into my new address.
It all seemed so easy, so right, so meant to be.
My controlling self wanted to call the landlady 100 times to convince her to pick me, pick me.
But each time I realized I was too attached to the outcome, I breathed into my heart, easing into trust and remembering that there are some things I simply have no control over.
And now it is Tuesday night and I still don't know about the house on Hemlock. And if I don't get it, then what?
Now that summer is over, the RV park is empty. We're the only ones here and it's a little creepy and very lonely.
Should I just stay here, as is, and be the only person here in this RV park, but close to the beach and in familiar surroundings?
Should I leave the RV parked here, drive back with Marika this weekend to get my car and drive it back so I have more mobility and flexibility?
Should I check out the RV park in Cayucos that our last neighbors told us about because it's cheaper?
Cayucos is a very small beach town five miles north of Morro Bay, known for surfing, antique stores and a great dog beach. They also get much less fog and much more sun than Morro Bay, which is not necessarily a plus for me.
Marika agreed to drive up there with me this evening to check it out. We pulled into the Bella Vista Mobile Lodge in Cayucos just as the sun was setting pink over the ocean. The park is mostly mobile homes, with 29 RV spaces scattered through the park, all with a patch of grass, full hookups and wifi but no TV. It's on the hill at the north end of town, just a short skip down the road to the beach, the pier and Duckie's Chowder House. You can hear the ocean rolling from many of the sites.
I like the idea of living in a community of full-timers. And the price-OMG-only $525/month! I could park the RV in my spot and use my car to drive into town, explore, play, volunteer, go to yoga, see clients and whatever else I want to do. I wouldn't feel the pressure of having to make a lot of money and build up my business. Instead, I could continue to walk and write and connect and keep exploring how else I want to serve.
So tomorrow I will call the office and see about staying there for at least through the month of September. If it's a yes, then Laddy and I will still drive back with Marika, but in her car. I'll stay with her and work in Phoenix for a week if I have clients, then drive my car back and settle in with a new Cayucos address. And there are plenty of motels and hotels where friends can stay when they come to visit.
Of course, I'll keep you posted. Meanwhile, if you want to rev up some good mojo, please do. And then, let it go!
Share your comments by clicking on the Comments below!