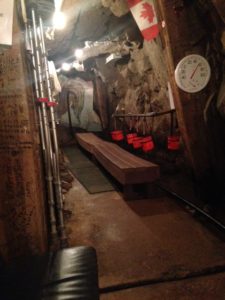 Last week Marika and I camped at Lewis and Clark Caverns, about an hour north of Yellowstone. From there, I had no idea where we were going, just a general direction westward. After the high priced campgrounds, we both were hoping to find some free or less expensive camping for a few days, but every forest campsite I checked would only accommodate RVs up to 20 feet.
I felt stuck and frustrated, and finally, I stopped looking and went to bed.
In the morning, Marika talked with the park ranger about birding in the area and came home with a beautiful brochure of nearby birding spots. And then I remembered that I always imagined we'd plan our route by where the birds are. And sure enough, there was a large refuge listed in the pamphlet in the direction we were going. I had a new town name to research, to find a camp site.
According to RV Park Reviews, the Merry Widow Mine Campground got 9 out of 10 stars. Sites were shaded with full hookups, and some backed right up to the Boulder River. And it was only $19.28 a night if you stayed at least 5 nights. They had availability and we booked it.
When I finally looked on the paper map, I saw that we were only driving 45 miles, and it really wasn't ON the route. In fact, we were backtracking a few miles. But we were committed. I said, "Something magical is gonna happen for us to be going here."
We took our time leaving camp since we only had an hour's drive. We hitched up the car and headed west. Instead of driving the interstate, we took the narrow, winding, two-lane state highway, through rolling hills and pastures. A detour put us on a fairly well-graded gravel road for about 5 miles, then back onto the main highway to our destination.
We pulled in and stopped in front of the rec hall, looking for where to register, and an Amish man with a long gray beard wearing overalls and a long-sleeved shirt approached us. We assumed he was the camp host, welcoming us, but instead he said, "Do you know you're missing a tire?"
What?
The front passenger tire was gone and it looked like we'd been driving on the rim for a while. The liner inside the wheel base was also gone, and the cables to the headlights were cut. We hadn't felt a thing.
We unhitched the car and pulled the RV into our space. I called the Toyota dealer in Helena, 26 miles north of camp, and AAA came and towed the car there for a Monday appointment.
Marika called the camp hosts to find out about registering, and when Veronica, the Korean owner, heard we didn't have a car, she drove down to pick Marika up to take her to the office, which was at the top a fairly steep hill, where the healing mine is.
Years ago, they mined for gold, silver and uranium in this area that lies halfway between Butte and Helena. Several years after the mine closed, a couple re-opened it for healing, based on the belief that radon, in small, controlled doses, eliminates inflammation, the cause of so many diseases.
Healing mines have been popular in Europe for decades. And hundreds of people from Canada come here every year since it is covered under their medical system.
Some folks have voiced concern about the dangers of radon. But that's why they limit your time in the mine. Like alcohol, a small amount is fine, but too much can cause health problems.
In the campground reviews, folks had mentioned the mine, but I really didn't know much about it. Now, without a car to explore the area, it seemed like the natural thing to do.
And so, on Saturday morning, we had our first treatment.
There are three ways to take in the healing properties of the mine: breathing the air, soaking your feet and hands, and drinking the water. Some people use an eye cup to rinse their eyes. Some people even bring their arthritic dogs to the doggie den for treatment.
And every single person in the mine has a story: how many years they've been coming, how their aches disappeared, how their arthritic fingers unfurled, how their breathing improved.
And they return every year to repeat the 3 times a day, 11 day treatment regime.
We go at 9, 1 and 5 for an hour each time, with three hours in between to release the gases from our system. Veronica has been picking us up since we don't have a car and it's a steep walk uphill. Also in the car is a middle aged law professor from Korea who has bone cancer, and her 25 year old son. They are staying in one of the furnished apartments about a mile down the road, and Veronica gives them a ride. They speak very little English, so Veronica translates for us. The woman is impressed that we drive such a big RV. The son is studying economics at University.
At the entrance to the mine, the son helps his mother out of the car and into a wheelchair, and pushes her down the long passageway. We follow, walking about two football field lengths into the mine, through the well-lit, damp, cold corridor. It's smells a little rusty and my lungs love the dampness. Small stones with handwritten names line the walkway, along with names and dates written in permanent ink on the walls.
We pass a small room designated for bringing your dog, and a curtained alcove with a white bathtub for people who want to do a full soak. The end of the corridor is lined with thin-cushioned benches and seats from an old school bus. There is also a picnic table in an alcove for playing games, doing a puzzle. There are heat lamps hanging from the ceiling, but it's pretty cold inside-58°.
This is the main treatment room. At the end of the room is a long bench for people to sit and soak their feet in a trough of the magic mine water. There are buckets for you to pour the water on your knees and a plastic tub for soaking your hands and forearms. There is also a spigot so you can drink the water.
Marika and I sit next to each other on the bench nearest the heat lamp and watch the son help his mother onto the seat. She pushes her sleeve up and places her right hand in the long tub of cold mine water, then closes her eyes. After five minutes she dries her hand and her son helps her walk to the bench for the foot soak. The sign above says The Agony of Defeet, and when Marika and I put our feet into the water, I understand why.
The water is 50° and my feet burn from the cold. But I keep them under, breathing calm into the rest of my body. I pull my feet out for a moment and can no longer feel the difference between the cold water and the cold air.
The Korean woman is sitting next to me, whispering in her native tongue. And then she begins to sing. Tears rise up in me and I let the unnamed emotions release. I join in her song, humming the melody as more tears fall. I cry because she is singing for her life and I feel like I have been squandering mine.
And I realize that I am here to be healed, to release the griefs and the fears that hold me in this complacency, to let go of the visions I have for what's next, and open my lungs and my heart to all that is unknown. And to love bigger and fuller, both myself and others.
The woman is now crying too, and I place my right hand on the back of her heart and cry with her. When our 10 minutes are up and we are drying our feet, we both say thank you.
It is no accident that we are here, that our car won't be ready until at least Monday. We have extended our stay to take advantage of the full 11 day treatment. Maybe the treatments will clear my lungs. Maybe they will help Marika's knees. Maybe they will even remove the floaters in her eyes.
It may be days or weeks before we feel the full effects, but already I imagine that we will return next year to repeat the experience.
For more information about radon therapy and the mine, visit www.merrywidowmine.com