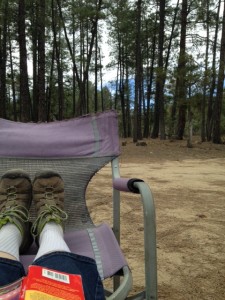 Marika and I spent last weekend camping. Instead of a staying in a campground, we opted to check out the dispersed camping area in the tall Ponderosa Pines of the Prescott National Forest.
We drove about three miles down a winding but evenly graded dirt road to a clearing in the trees. After several attempts, I was able to level the RV in the uneven dirt and we settled into three days of quiet. The dogs loved sniffing and running off leash. Marika was enthralled with the variety of birds- woodpeckers, white breasted nuthatch, ravens, flickers, even bluebirds.
But I was unsettled, because I had nothing to DO.
I realized how busy I stay, with work, checking Facebook, watching TV. Without these distractions, I panicked about what I would DO all weekend.
On Friday, our first morning, I lingered in bed till almost 10, cuddling with Cody and Mabel, while Marika sat outside watching to see if any birds would find the seeds she had scattered on a tree stump.
She was content to sit and watch, look things up in her field guide, and watch some more.
I took my coffee outside and joined her and she pointed out movement in the trees, read out loud how the nuthatch stuffs nuts into the bark and then uses its beak to break open the seed. While this was fascinating information, by lunchtime I was bored.
We walked the trail that cut through the pines to a grove of winter white aspens. We crunched our hiking boots in random patches of snow around the boulders. I fed Cody some fresh snow, then scooped some into a ball and tossed it to him to catch in his mouth, midair.
But the 5500' elevation was hard on my breathing, so I also sat a lot. I watched the clouds in the sky, listened to the wind in the trees and imagined it was the ocean. I even reveled at the pair of Western Bluebirds flitting from branch to branch.
Friends drove up in their off road quad for a Saturday morning visit and it was delightful to sit and talk under the whoosh of the wind in the trees. But after they left I was bored again.
And then I remembered that I had a book to read. It's been so long since I've sat with a paperback, feet up, no distractions. And it was heaven. Marika even brought me a lap blanket so that I would be warm when the sun hid behind the clouds.
For the first time in so long, I was able to turn off all of the voices in my head and get completely involved in the people on the pages. By Sunday morning, I was finally feeling lighter, calmer, more open, more grounded.
We drove back to Phoenix on Sunday morning, ahead of big winds and possible rain. We had our traditional back-from-camping Chinese food dinner, but I was too tired to go out, so Marika picked up take-out.
And the next day, back to work with a favorite client, I was sharing what has been going on since we got to town in January. That we are really doing this full-timing in the RV! That we may be camp hosts in the next 12 months, maybe even at a lighthouse in Oregon. And that the house is closer to being ready to rent.
The new floors are in and they are gorgeous. We've talked with one property manager and will interview a few more. We're getting a bid for the pool fence that seems to be a requirement for renting, even though the laws don't apply because the pool is grandfathered in. And we're looking at all kinds of used RVs to find the floor plan that will suit our life on the road.
Being away, living a weekend in nature, reminded both of us how much we love this way of life. It refueled us to move forward with the next round of things we have to do to make it happen. And I remembered how much I love to read.