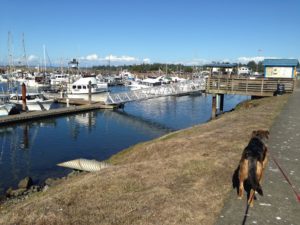 We are in Charleston, Oregon, a small fishing village situated along Coos Bay and the South Slough, forming the largest estuary on the Pacific Coast. Ocean access is just a quick drive from here, and right across the street is a short beach at the clamming mudflats where we take our family time walks at low tide.
The city of Coos Bay, the biggest town on the coast, is 20 minutes away with a Walmart, Safeway and Fred Meyer, but no Costco. So before we left Florence, we drove into Eugene, an hour and a half each way, to get dog food for the next 2 months. We also got haircuts at a recommended woman barber, the best we've had since our long-time hair stylist in Phoenix!
We're in space #28 at the Charleston Marina and RV Park. It's essentially a big parking lot with laundry, a rec room and a crab cleaning station, adjacent to the marina where private and commercial boats come in and out. We are backed into our double wide spot so there's room for the car, our chairs and a picnic table outside our door. The space next to us is empty so it feels pretty roomy. Most of our neighbors are here to fish for salmon and tuna and crab, and they are gone much of the day.
We've been exploring our new neighborhood, driving the scenic road south for those spectacular ocean views, feasting on senior fish and chips at one of the dozen restaurants in this fishing town. We ate some really good falafel and gyros sandwiches in Coos Bay, and walked around a gorgeous city park with a lake.
And it is warmer here, mid 60's to 70's with good sun and less wind and fog, so it is easy to be outside.
This is my favorite place, hands down, from the inside out. I can't really explain it yet, but it feels like home. Like Cayucos did. And I am so glad to be here for the entire month. There's time to go to the Cranberry Festival next weekend and the Oregon Shorebird Festival the weekend after that.
And I finally ordered an inflatable kayak! I've been talking about it for more than a year, but with work so quiet it was hard to justify. But I know it will fill me and fuel me and be so good for me! I'll start in the lakes so I don't have to worry about the tides and boat traffic.
You might think that this life is all joy and happiness. But I'm not working. And I need to. Not just for the income, but for the engagement with others, for the feeling of helping others, and connecting with people on a deeper level.
So now that we're in one place for a while with good wifi and cell service, I'm ready to work with clients, make some new Mac training videos, and do more of my real work in the world.
Perhaps you, too, are ready, to spark something in your life. Let's set up a coaching call to fan your fire and ignite a flame. And if you're a Mac user, check out the upcoming THE ORGANIZED MAC online class that begins September 19 at www.mac2shool.com/biz/