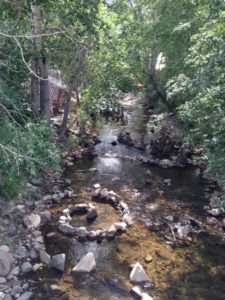 I am writing this on Monday morning from Basin, MT, where we are still waiting for the car to be ready. The wheel for the car DID arrive on Friday. But the tire pressure sensor got lost in the shipment, and they still need some clips, so they had to reorder the parts. Maybe they'll show up today. Maybe the car will be done by the afternoon, or Tuesday. They reminded us that we're in a rural part of the country, and things take a little longer to arrive.
I started to freak out that we'd be here another week and Marika suggested the word surrender. She assured me that we will get to the Oregon coast in time for my Dream Altars class next Tuesday. It's a 4 day straight drive, which I'd rather do in 5 or 6. But we will get there.
Once I settled into the facts and let go of our original plan, I was actually glad we didn't leave on Friday. We had the weekend to accept the not knowing, to ease into what we need to do to be ready to leave, pull out, get on the road. We did some serious housecleaning, sorted through the two remaining boxes and restocked the pantry and fridge.
And we had another day of exploring the area, this time to the well-known Archie Bray Foundation. Situated on land next to an abandoned brick making factory, the Foundation is a mecca for ceramic artists from all over the world to come and work. And the grounds are decorated with sculptures and pots and all kinds of ceramic artworks. We walked around the property, peered into the broken windows of the original brick factory. We walked inside one of the original kilns, a beehive structure with a twenty-foot ceiling, built exclusively with bricks. The afternoon light streamed in through the spaces in the bricks that had served as vents for the oven.
As we drove home in a slow rain storm, I realized that I also needed to start creating some forward-moving energy so I wouldn't feel stuck, waiting. I needed to look ahead to being at the coast, even if I didn't know WHEN we would get there, and to start feeling the excitement of being at the ocean. In Oregon. For three months. Big dreams coming true.
And maybe that scares me a little. To know that we are really doing it, just like I imagined we would seventeen years ago, when we spent six weeks on the Oregon coast, and I dreamed of this full-time life, staying at the marina, crabbing, birding, writing.
Because now what? Once we get to the coast, the only big dream left is the one I keep dragging my feet about, holding my breath against, putting off until someday. A part of me knows that my time on the coast will be all about embracing this next big dream, and taking the steps toward making it real.
Which may be why I started to think about cancelling the class to take all pressure off, and even changing our route to spend more time exploring Montana.
But Marika reminded me that I have students signed up, that we will get there in time, and so we are sticking to the original plan.
As much as I've loved being here in this place of healing and simpleness, I'm readying for the new shifts that are on the horizon, and all that is coming next. Even if it is so big and scary, because it is also big and wonderful. Like most dreams are.