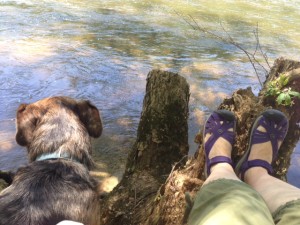 Cody and I are still in Asheville, camped on the French Broad River. It is quiet and spacious and comfortable. We are RIGHT. ON. the river. The camp hosts are delightful. It's close to shopping and it's a wonderful place to invite people to come visit me. The weather is idea, there are no mosquitoes or ticks. There is free wifi. And staying in one place saves on gas.
The other day I went up to the office to pay for another week here, and I said to Bill, the camp owner, I'm going to be staying in Asheville through July 7. I have reservations at another park for after the 11th (the last date open here), but I'd love to be able to come back if anything opens up.
Let me look, he said. I'll see what I can do.
I was expecting a few days here and there, especially with July 4th and all.
I can get you in, he said.
For the whole time?
Yep. You'll have to move over a spot.
Through July 4th?
I thought you wanted it through the 7th?
And I get to pay the monthly rate, which is so much more affordable than $33.00 a day.
This is what happens when we know so deeply what we want. And when we ask, with no expectation. And when we open to more than we can imagine.
For a while I wondered about the other place that I had been planning to move to. It was closer to downtown Asheville, which would be closer for my friends, still on the river, and on a multi-use trail so I could finally ride my bike. But the path went right through the park, so not great security. And it was next to the noisy highway. And the reviews weren't that favorable. I considered driving over there to check it out while I got my propane tank filled, but they were out of propane. I took it as the final sign that I didn't need to see it to know that I'm exactly where I'm supposed to be.
And then Sunday, I had a bit of a meltdown. After all of the recent excitement and magic of connecting with friends and meeting new people, and knowing that I am here for a whole extra month, I had no plans and didn't know what I was going to DO with the day.
I took a walk with Cody and realized that there are parts of me that are still swirling in all of the recent happenings, some that are ready for the next big step, and other parts are needing to catch up, and still other parts just want to rest.
And so really, the day was not about Doing anything, it was about NOT doing. Stilling. Be-ing.
I have been watching the rush of the river every day, daring myself to walk farther and farther into the current. The other day, in my bathing suit, I walked out half way up my thighs, just past where I couldn't see the rocks on the bottom. I footed around to make sure it was level, and then I walked just a little further so that I could dunk myself in. I got wet up to just below my shoulders – I couldn't crouch any lower. And it was a rush of exhilarating cold and flow and it felt great!
So many things about being here are like that exhilarating rush: choosing this gorgeous campground, feeling such a connection to the river, being so welcomed by friends, inviting people to sit by the river with me, I'm even working, in person and virtually, with Mac and coaching clients.
All of it is so exciting, and wonder-ous, and heart sparking. And maybe a little exhausting.
So instead of rushing to the next big thing, I'm going to find a quiet pooling of water that isn't rushing upstream, and I'm just gonna sit and breathe and sit with all that has been and all that is, and gather my parts all together again. And THEN I'll be ready to take the next first step.