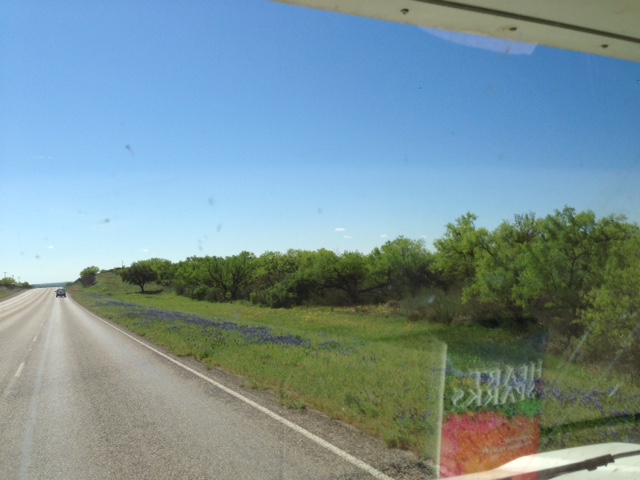 On Wednesday morning the water pump light was still working on the monitor panel. The night before, a dear friend's husband said that he was convinced it had been a loose wire, probably at the switch, and that the air conditioner probably caused just enough vibration to make it work. He was sure that all was fine.
And so I drove to the gas station on Wednesday morning, thinking that the vibration of the drive would be a good test. The monitor light still worked, and so I kept going.
Cody settled into his bed under the dinette and we got on the I-10 and drove south and east. We got gas outside of Tucson – I like to fill the tank when it gets to half, especially when I'm driving across the desert where gas towns can be far and few between.
We drove a few more hours, across the state line into New Mexico and pulled into our camp spot at City of Rocks State Park, 35 miles north of Deming, around 3:00, which was 4:00 in New Mexico.
It was an easy, but long six hours and I was glad to be parked in the middle of nowhere, with no cell reception, no internet, no neighbors. Just me and Cody and the towering boulders and the wind. We walked up the road for a vista view, we explored the trails that roamed around the towering boulders and we played with an eight-foot-long ocotillo skeleton that Cody managed to maneuver across the campsite and up onto the raised picnic pad. I moved it a few inches with my foot and then he grabbed it with his mouth and pulled it further. Your turn, my turn, we moved it across the picnic area and over to the other side of the camp site.
We both slept well, but in the morning, after a few short ball tosses in the road, he was walking with an odd turn in his right hip. And he was staying really close to me. I remembered that he had skid on his back legs the morning before in Marika's back yard. So we shortened our walk just enough for him to do his business, and then we pulled out.
I was determined to get to Hobbs that afternoon, even though the evening's Heart Sparks workshop had been cancelled because I just wasn't sure if I was going to be able to make it.
Still, Deb, the woman who had set up everything and was doing the book-making part of the evening, was going to drive over to the venue just in case someone showed up, and I wanted to join her.
But as I drove further across New Mexico, I wondered, why am I even doing this? There's no workshop. Maybe I'm not supposed to be on this trip. I can still turn around….
But I knew that was nonsense. That I just had to cry my way through it. And I realized that I am tired. And that I am still in that space between leaving and arriving.
It's like when I left home for college. Even though I was going to school less than an hour away, I was terrified to leave the safety and security of home. EVEN THOUGH I HATED IT and was so ready to start my own life. But in that middle space, I didn't want to leave and I didn't want to stay, I just wanted to curl up in my bed forever.
This journey is different. I'm not terrified of what is coming, I just don't feel very strong in it. Yet. Yesterday morning heading to Austin, again I thought about turning around, going home. But of course it was just a reaction to the tears, to the tightness in the center of my chest when I hear myself say I have no idea where I'm going.
This morning, Tuesday, we took a walk and then I read my email. My father needs to delay the second $5000 that I had counted on. And the woman I was going to meet on Wednesday is busy. And the Junk Cathedral isn't open for viewing. And it is so muggy here.
I know, deep in, that these are all smoke and mirrors to distract me from doing what I know I am meant to do. So I keep coming back to WHY. And that's what these next days are for. To ground myself in nature. To settle in. To camp. To explore the nature trails and to walk and write and talk with people and see what there is to see, really see.
I unplugged the RV and drove over to the Lower Falls in the park. Cody and I walked across the moonscape of exposed boulders. We kept walking, until finally we came to the edge of the rocks where, below us, more rocks formed several still pools of water. Across from where we stood was a lush riparian area where a single white egret was cleaning its wings in the water. It was beautiful and solitary and I cried and cried.
The two hiking women I had seen in the parking lot came over the rocks and pointed to a faint path under the water line. When I asked, one of them said that it's the same path used by the earliest people in the area. They were hoping to cross it to the other side, but the water was deeper than they had planned for. They were going to drive around to the other side. So they turned around and walked back to the parking lot and we followed a few yards behind. It was getting muggy and I just wanted to go back to camp to cry some more.
I cry because I'm not making money. I cry because I wonder what I'm doing. I cry because this is all so big. I cry because it is all on me, because I'm not the model of a fun and happy camper, because I have to keep emptying and letting go, over and over, making room for the new.
I had two hours before two Facebook friends were picking me up to go for lunch and some city sightseeing. I read. I wrote. I answered work emails. And when they pulled up, it was like I'd been saved. They were warm and generous and easy going and such a delight to be with.
After some love time with Cody (yes, they brought him a variety of treats), I locked him in the RV with the windows open and they took me to their favorite restaurant on Austin Lake. Our conversations were comfortable and easy, like we'd been friends for years. No drama. No pretense. Just three women having a really nice time together.
I had a list of odd places that I wanted to see and they were so happy to oblige. The Cathedral of Junk was amazing even if we could only see it from behind the DO NOT TRESPASS signs. And they had wanted to go the Umlauf Sculpture Garden, too. On the drive back to camp, we even stopped for some famous Sandy's frozen custard. We had such a nice time that we're getting together again tomorrow!
And I realize that THIS is what this journey is about. Really showing up and connecting with people, heart to heart.
Like yesterday, on my way to camp I stopped to visit with a Facebook friend to celebrate that she's done with radiation. It was a short visit, but so heart warming for both of us. And her husband fixed the lock on the RV storage compartment and Cody was gifted all of their last dog's toys. And she even gave me the green calcite crystal that I had picked up from her altar.
More signs have appeared today. I heard back from my Asheville Unity contact and we are working on a date. So many people on Facebook posted their love and support when I was needing it. And a Mac client inquired about some in-person training when I am in New Orleans.
Yes, this is a solo journey, but I know I am not traveling alone. And even when I fall into that deep space of doubt and uncertainty, there is a deeper knowing that I really am on my true path, that I am exactly where I need to be, doing exactly what I am supposed to be doing. And that I can be a little gentler with myself about it all and start to really enjoy this grand adventure.