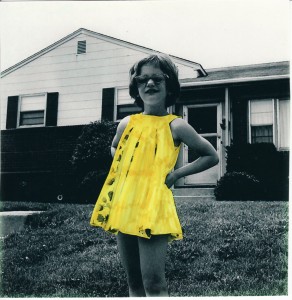 Ah summer.
The days are long, stretched out in light and heat and possibilities. Especially when you are a kid. For most of us, summer was the best part of the year–no school, playing all day, maybe even going on a family trip.
Even if we didn't have the ideal childhood, summer offered us a kind of escape. We could disappear into a book or the swimming pool or a favorite hiding place and just be with our own imagination for a while.
Often, remembering those childhood summers can trigger a forgotten dream or remind us of something we've always loved.
I grew up on Long Island, the fish shaped peninsula east of New York City that juts into the Atlantic Ocean. My neighborhood was pure suburbia with green lawns and good schools and a mix of Jewish and Catholic families.
Summer meant weekly visits to the library, hours lying on the grassy incline in our front yard, imagining shapes in the clouds, and playing kickball with the neighbor kids in the school playground across the street until bedtime. I was the youngest and always had to leave before the game was over, called in by the on and off flashing of the front porch light, my mother's silent signal that it was time for me to come home.
When I complained that everyone else could stay out later, she offered me the option of coming in now or not playing at all.
My mother had very clear rules about a lot of things. Homework before play. You have to be well for a full day after being sick before going back to school. And I couldn't wear shorts until June 21, the official first day of summer. (I wonder if she would have been flexible with the shorts rule if I had grown up in Phoenix.)
Summer was also when we took our annual family vacation. I learned how to read a map on our car trips to Washington DC and the Pennsylvania Amish country. I swam in a lake and caught fireflies in a jar with the daughter of one of my father's former colleagues in upstate New York. And we always stayed at a Holiday Inn, because kids were free and they had a swimming pool.
Summer was making friends with Beezus and Harriet and Encyclopedia Brown, and standing on my mother's Hoover upright vacuum cleaner, pretending it was a microphone.
Summer was blowing wishes on dandelions and mowing patterns in the lawn with my father's push mower. Summer was climbing across the monkey bars, not afraid to let go of one rung to reach the other.
Summer was blue popsicles dripping down my arm and chocolate Carvel ice cream cones dipped in rainbow sprinkles. Summer was getting my hair cut short, like a pixie, and my legs sticking to the vinyl on the backseat of the station wagon.
Summer was sleepover parties with my girlfriends and hours of riding our bikes on the blacktop of the schoolyard, pretending we were teenagers, driving to our own apartments.
Summer was being stuck in traffic coming home from Jones Beach, me in the back seat happily distracted by the smell of the ocean on my arms.
What do you remember about summer?
What were your favorite things to do?
Where did you hang out? Who were your best friends?
Does remembering anything about your childhood summer trigger a dream of something you'd like to be or do now?
I'd love to hear your summer memories. Please share them with me and my readers by clicking the comments below.