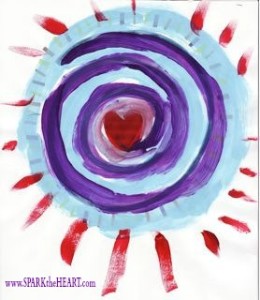 A year ago I had a going away party, even though I no longer had a moving date. I had found and lost a rental property on the central coast, and had no idea what my next step was. I scoured Craigslist every day, several times a day, but looking for a place to live from 600 miles away is nearly impossible.
Fast forward to today, where I have been living for the past ten months in my 24 foot RV across the street from the beach, 20 miles north of where I thought I'd be living, in a small beach town I didn't even know existed.
And I am very content here. LIving small helps me focus inward and connect with what really matters.
But yesterday, out of nowhere, I looked at Craigslist again and found a most perfect, quirky, cozy cottage for rent in my original dream neighborhood along the back bay. I hadn't even been thinking I was ready to move into a house. But when you follow the energy, things open and your heart beats really fast and you know, you just KNOW that the universe is calling you to show up bigger.
And I have to stop and wonder, is this a repeat of a circle or is life really a spiral?
The original vision of my move to California was that I would rent a house, connect with the Apple Store in San Luis Obispo and simply move my training business here. Same same same.
But the moment I got here, I knew I didn't want to live that same life, do the same work in the same way.
And so these past ten months have been a time for me to let go of the old and open up to new possibilities. To spend more time writing, tapping into my creativity, connecting with the rhythm of the tides and my own true heart.
I am a very different person than I was ten months ago. I am more flexible, more centered, much more present and aware. Daily morning beach walks will do that for a person.
I have been writing every day and learning to lean in when things get really uncomfortable. I am on the board of the Morro Bay Winter Bird Festival and I am creating the Community Prayer Flag Project.
And in these past months I've restructured my Mac training business so that I work with all of my clients virtually. Most of my clients now come from online connections, and, like with any business, I realize I need to keep growing my contacts if the business is going to continue to support.
And so, with the encouragement of my business coach, I agreed to finally contact the Apple Store to see how we could work together. And they were thrilled to hear from me. They are eager to refer me to their business clients for system setups and training. And they're even open to me offering specialized presentations for entrepreneurs.
On the surface it might seem like this is the exact scenario from ten months ago. Rental house, Apple Store. On-site training.
But it's not.
I'm seeing it from a different perspective. This on-site Mac training is no longer my sole livelihood-it's an extension of the other work I do. And moving to Los Osos would cut the travel time to San Luis Obispo in half, making it more enticing to take on this on-site training work.
Could it be that, the moment I said YES to connecting with the Apple Store and being open to do some in-person training, the Universe opened up for me, offering me a home to spread out into?
Just like ten months ago, I am waiting to hear from the landlady whether or not she picks me to be her tenant. While the cottage seems absolutely perfect for me, I also know that, if I don't get it, something else bigger and better is waiting for me. I know this because that's what happened ten months ago.
Yes, life really is a spiral.
I'd love to hear how you you notice this spiral in your own life. Please share your story with me and my readers by clicking on the Comments below.