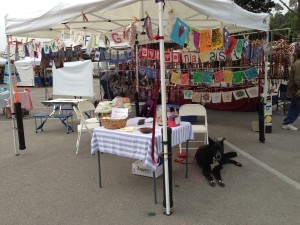 Friday evening:
The RV is parked and we are settling into our weekend home at the back end of the Vet's hall parking lot in Cambria for our inaugural Community Prayer Flag festival event. My EZ-UP tent is set up, thanks to the help of one of the event coordinators, and Laddy and I are now relaxing as the sun goes down.
Highway 1 is loud behind me, the dinette window faces the parking lot where the fair be. Looking east, past the tents, past Main Street is Happy Hill, a very steep mountain with worn dirt roads that lead up to four story houses built into the side of the hill. Pine trees, thick and tall, tower twice as high as the houses.
Right now there are only a handful of booths set up. I can see my booth, the white canopy top flapping a little in the breeze, the concrete-weighted cylinders that are suspended alongside the canopy legs keeping everything stable. My chairs and tables are piled on the ground under the canopy for set up in the morning when I'll also string the rope and then clothes pin the flags all around the booth. I can't wait to see them all flying in the breeze. It's going to be beautiful!
Saturday evening:
It turns out it's a pretty small fair. Only half of the booth spots are filled. People trickled by all day, some walking right past my booth to the noisy wind chimes behind me. Others stopped to look, touch, ooh and aww at the beautiful flags. One woman shared that she was having heart surgery this coming week and that she could use all the prayers she could get, so I invited her to stand in the middle of the booth and feel the love.
A couple from LA was so touched by the project that they invited me to participate in an event at their synagogue in March. They bought a set of blank flags to show the committee.
And the folks from the campground with their twin teen grandsons came and it was fun to talk with the adults while the boys enjoyed drawing mandalas.
But it was a long day with very few actual sales. In the evening, Laddy and I walked around to stretch our legs but I was in bed by nine, to get ready for another day.
Sunday morning:
We slept well, and I took my time getting out to the booth for the 9 am opening. And this time Laddy joined me. He was happy to sit in the middle of the booth, watching people, sniffing, even letting people pet him. After an hour I took him back to the RV so he could relax.
More people came but still, there were very few buyers. In fact, most of the vendors were complaining about poor sales. And yet, I didn't let it get me down. I focused on WHY I was doing this as I watched the wind blow the flags and carry all of the love and good wishes into the breeze. And I continued to invite folks to experience my booth of love.
Two young sisters sat down with their mom and grandmom and it was a delight to witness three generations of love at one table.
Two different people said I should contact the Art Museum and the Children's Museum in San Luis Obispo. And one woman, a long time cancer survivor, encouraged me to contact the Hearst Cancer Center.
A teen girl approached the booth, her face beaming and she said, "You are so lucky. It's all so beautiful!"
Some folks talked about how they were going to go home and do this with their kids, and others mused that they could even make a quilt with the squares.
I loved all of the connecting and sharing but, by three o'clock, I was ready to pack up and be home. At four thirty I started unpinning the flags and folding them up. One of the organizers helped me fold down the canopy and I took my time loading everything back into the RV before driving home. After sixteen hours of booth sitting, I made $60.00.
Sunday evening:
I was so exhausted when I pulled into the RV Park. I had to first move my car out of my spot, then back the RV in. The park ws surprisingly full and there was a very long trailer parked opposite my spot, making the turn to back in really tight. I was so tired that I just didn't want to do it.
So I said to the man near where I had pulled up my car, "I'm so tired I wonder if you could…" and before I could finish the sentence he put down his bbq fork and said, "do you need help backing in?"
Yes, please.
Good thing, too, because I would not have been watching the top overhang of the RV as I made the precarious turn. But he was watching and we backed in on the first try.
I plugged in the electricity and recharged all of my technology but decided to save hooking up the sewage until I'm ready to dump again. I did reconnect to the main water supply so I'd have better water pressure in my morning shower..
As for the fair, it was not a monetarily profitable experience. But, as experiments go, I got a lot of bang for my buck.
I learned that I loved interacting with the kids who sat down to draw. encouraging them to draw whatever they felt, offering samples, checking to see if they needed more prompting or not. And how delighted they were with their creations.
I loved hearing what a great project this is, how people's faces lit up as they touched the artist made flags hanging all around the booth.
And I'm convinced that the project is worthy of pursuing. 
It manifests and generates love and well wishes in the world through something beautiful and accessible to everyone.
It offers people an opportunity to share love, blessings, prayers for themselves, someone they know, the whole world.
And the artist-made flags make the booth so beautiful and inviting and inspiring.
But this festival vendor life is not for me. It's too physical-the heavy weights, the tables and chairs, and all of the sitting! I am so grateful for Laddy-he motivated me to get up and take walks. And I stretched. But I am stiff, and achy, and tired. To the bone tired.
In the next few days as I rest and recuperate, I'll assess and re-assess what worked, what I liked, and what needs to change.
But for now, I'm just feeling the love.
I'm so grateful to the artists that created flags that made the booth so beautiful. I'm grateful to the folks who stopped and noticed and connected with the project. And I'm so grateful to you, dear reader, for cheering me on and being a part of this growing project.
Feel free to leave a comment below!