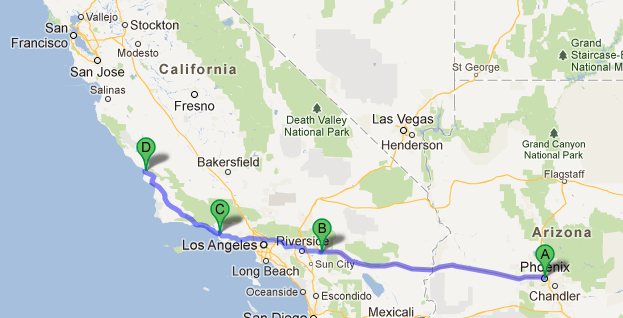 I pulled out of Marika's driveway on Wednesday morning, August 1 and arrived at Country Hills RV Park, my overnight destination in Beaumont, California seven hours later. It was a long day but relatively easy driving across the desert.
I met up with my friend Kathi who lives near Beaumont and we enjoyed some delicious Thai food and catch-up conversations. Bedtime came early and Laddy and I both slept long and deep. In the morning we took a walk through the high desert, ate our breakfasts outside while we watched hummingbirds and I readied the RV for the drive the rest of the way to Morro Bay.
But as I sat there in the quiet of the morning, I realized I just wasn't up for a second day of freeways and mountain passes and six more hours behind the wheel.
So I changed the plan.
I decided to drive only half the way and stay overnight in Ventura where my friend Leslie lives. I had planned to camp at the nearby state park, but Leslie said I could park on the street in front of her house, just two short blocks from the beach.
Leslie is a Buddhist, and being around her calming, non-judging energy was exactly what I needed. We talked, I cried, I made myself lunch and then I had to take a nap.
I didn't realize how exhausting all of the driving AND all of the emotions of this journey would be.
After my nap, Laddy and I took our first walk on the beach. Pelicans and gulls flew over our heads but I was still too tired to walk very far or even take my shoes off to get my feet wet. I wasn't sure how comfortable Laddy would be off leash with other dogs coming up for smells, but he did fine.
We hung out in the RV until bedtime, him asleep in my bed and me watching Project Runway on Hulu using a neighbor's free wifi.
Friday morning, after a good night's sleep, I still wasn't ready to get behind the wheel. My body just wanted to rest. So I chose to stay another day and night in Ventura, being gentle and forgiving with myself and my changing plans.
We walked, I wrote, we napped and walked some more. I finished the last of Marika's grilled chicken for dinner. While I wanted to join Leslie for First Friday Art Walk at her Studio, I knew the four hour commitment would be too long for me. So instead, Laddy and I took an evening harbor walk and I watched TV until bedtime.
I pulled out early on Saturday morning, rested and ready for the three hours of driving, ready to reach my destination.
The drive was easy, with very little traffic, just rolling hills, vineyards and horses feeding on fresh hay. I drove to the back bay first to walk around a bit. I had lunch in the RV overlooking a frenzy of pelicans feeding on a clump of kelp, then drove into Morro Bay, stopping at the market for some provisions before checking in.
The office at the RV Park was closed when I arrived but a man was standing right there, and he showed me how to figure out where my spot was. And then he was there again when I was ready to pull in, happy to help me back in so I didn't have to stress about that either. Blessings!
I video chatted with Marika for a while, testing out the connections and it's fast enough to rely on for work. YEAH! I told her that I'd been invited to do a presentation at the local Mac User's Group, but was concerned about backing in after dark. She suggested I ask someone for a ride. I did, and the president said he'd be happy to come get me, even though he lives in Shell Beach! So I can relax about that too.
So we're settling in. And I still can't believe I am finally here.
Laddy and I have taken several short exploring walks. There's a green grass park at the end of the street where we played a little low-impact frisbee. The beach is a little further the other way. And the trolley that goes downtown and to the Embarcadero stops right in front of the RV Park, so that will be a fun adventure, too.
This drive from there to here has been such an opportunity to check in with myself, with my body, my energy and ignore what is on the calendar. For a person who lives and thrives with a schedule, this is the new definition of freedom. And so far, it is working.
I'd love to hear how you honor your own body and energy, the voice within. Please share by clicking on the Comments below.