We all have things in our lives – a sudden death, a new baby, chronic pain, a divorce, the new school year, the loss of a job, a near-fatal accident, even just moving to a new house – things happen that shake us up, knock us for a loop, throw us spinning into confusion, and fear and not knowing what's next.
Sometimes the thing that shakes us and wakes us is our own boredom. We aren't challenged at work, we don't engage in anything exciting in our free time. We live our routine, park ourselves in front of our technology and, even though we don't love it, we think that life is fine.
And then something happens and suddenly fine is no longer enough. We know we want to make a change. But we don't even know what else we might want.

Author Ruth Davis owned a successful business, enjoyed a close circle of friends, and went on great vacations. But after emergency open heart surgery at age 48, she wanted more from life. She wanted to feel connected, vital, purposeful. She wanted to experience more passion and joy, not just when she was on vacation.
But she had no idea what that could look like or how to do it.
Ruth has spent the last 10 years exploring how we hold ourselves back from pursuing our dreams, how we stay in situations that are familiar, even when we're no longer satisfied, and how, when we live from our hearts, we are so much happier. HEART SPARKS provides a framework for examining our lives and our dreams, and offers possibilities for living more fully from our hearts.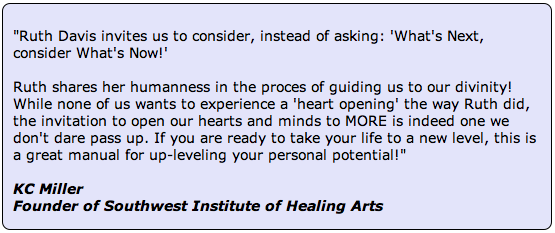 HEART SPARKS: 7 Practices For Loving Your Life offers seven do-able practices that will guide you to discover what else you might be wanting in your life:
Grounding. Quieting. Exploring. Getting Clear. Letting Go. Imagining. Taking Action.
Within the framework of these seven practices, Ruth shares engaging stories with compelling questions, challenges and meditations that invite you to remember what you love and how to bring more of it into your daily life.