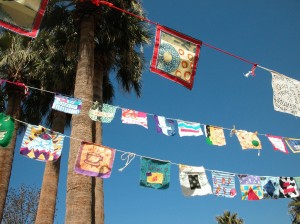 Tibetan prayer flags send good wishes for all beings on the breeze to wherever they're needed. Please join us as we build a community around creating, appreciating, and enjoying prayer flags and the creative good wishes they send on the breeze. 
Now available for a limited time:
Blank Prayer Flags
for your own celebrations,
gatherings and special occasions
Invite your friends, kids, family members
to create their own flags as part of your next celebration!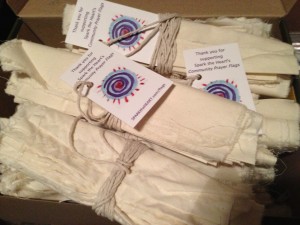 $20.00 per set includes S&H to continental US
each set contains 7 muslin flags
approx. 7″ x 7″ each
THE COMMUNITY PRAYER FLAGS STORY
In 2008, more than 500 Prayer Flags made by adults and children from all over the country were hung in front of artist studios and galleries during downtown Phoenix's 20th Annual Art Detour weekend. (Click on any image to see a larger picture.)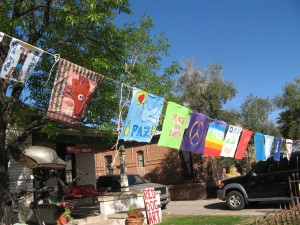 Mixed media artists from all over the country were invited to participate.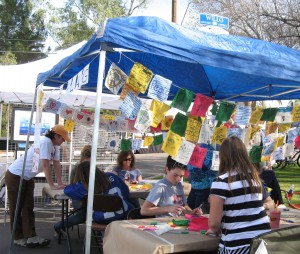 Booths were set up at various community events over the course of several months prior to the big event, offering people the opportunity to create their own prayer flags to be included in the larger installation.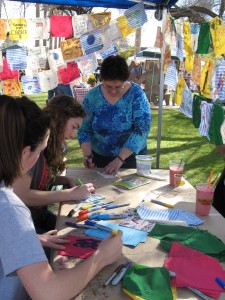 The Community Prayer Flags installation offered people an opportunity to express their deepest wishes and most heartfelt prayers for themselves, their families and the world.
And it gave people the chance to connect and participate in something bigger than themselves.
Some new artist-made Prayer Flags available for sale:
Sharpie on muslin, Kelly Medhurst
email me for purchasing info.