I love creating with others. It makes the experience exponentially better in every aspect.
Yoga and Writing Workshops
Teaming with yoga instructors offers participants a gentle yoga practice to help us unwind and relax and open up to our hearts so that we can go deeper with our writing practice.
I've done several on these workshops with Jen Patterson at the Yoga Center of Morro Bay and the students loved it! They were surprised where their writing took them and how expansive they felt during the practice.
Juried show, Shemer Art Center, Phoenix, Arizona 2002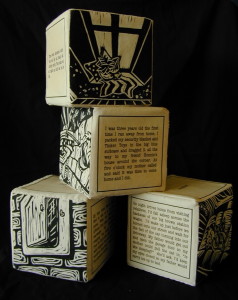 I wrote the stories and iron-on transferred them onto muslin. Barbara created and printed the graphics. She also sewed the cubes. Viewers were encouraged to rearrange the cubes and create new stories.
Canopy of Vows

The Canopy of Vows was created in 2003 by 23 women including me. Like a marriage, it is a coming together of individuals to create a single and unified thing. See more at: http://www.sparktheheart.com/vows/
Community Prayer Flags

In 2008, more than 500 Prayer Flags made by adults and children from all over the country were hung in front of artist studios and galleries during downtown Phoenix's 20th Annual Art Detour weekend. See more at: http://www.sparktheheart.com/flags
If you have an idea for a collaboration with me, drop me an email. I'd love to chat!