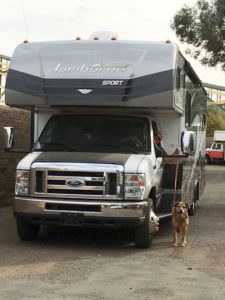 It is finally winter in Phoenix, with early morning temperatures in the 50's. I wore a sweatshirt and long pants for the first time this week. But, while I love the cooler temperatures, the sky is obscured by a thick brown fog because the warm air above keeps the cold air trapped with all of the city pollution. So I'm hardly outside to walk, and it's now too cold to go swimming. My body has gotten bigger, softer, stiffer. And this is how I know it's time to move on.
We've been here since October 5th, and we've taken care of everything on our Big City lists: I've worked with my amazing Mac clients, Marika has "near-perfect" distance vision without glasses, we've had at least one meal at each of our favorite restaurants, and have discovered several new places to add to the list. We got the solar system and TV antenna fixed on the RV, and got a new transmission pump in the car for towing, and my new glasses should be a done deal next week.
And so, we're taking care of the last few things, like paring down the contents of my boxes at my Dad's, finding new sneakers, and stocking up on paper maps and tour books from AAA, so we can get on the road to our next adventure.
We're heading to the coast of Texas for the month of February, staying on a private lot with full hookups on Bolivar Peninsula, two blocks from the ocean. It'll be a great base camp for birding in the area, enjoying local seafood, and doing lots of biking and walking.
From here to there I have mapped out an easy meandering, with campouts along the river just outside of Phoenix, then taking the back roads south to some BLM (Bureau of Land Management) dispersed camping areas near Florence, over to Tubac, down to Patagonia for a few nights, then east to St. David where there is a monastery with a small RV Park that I have dreamed of visiting for many years. And then we will spend a week in Willcox, AZ, for the Wings over Willcox Birding Festival, before continuing south and east to the Gulf Coast.
This has always been the dream: to travel with the birds, to follow the migratory paths of the birds, and attend birding festivals all over the country. And so, when I couldn't figure out how to start planning our route out of Phoenix, I looked for bird festivals. And suddenly, everything fell into place.
So we'll leave the Big City probably right before Christmas, since neither one of us has any standing holiday traditions here. And then we will be on the road again. Living in nature. Breathing wide and easy and open.
And I'll be writing again. And walking. And getting things in place for a new virtual Heart Sparks Coaching Circle that will begin in February.
I've been realizing how much I crave intimacy, and a "tribe," and a space for exploring and sharing this journey called life with others. Yes, it's been great getting together with friends while I've been in town, but my nomadic lifestyle makes it challenging to find this kind of connection on the road.
I've been dreaming of creating a new virtual coaching circle, but thought I had to be "fixed/healed/ready" before I did it. But I realize, that, it is the doing of it that will bring me exactly what I am longing for.
And so I'll be gathering an intimate group of seven women together for a heart-sparking virtual coaching circle. We'll be using my book Heart Sparks: 7 Practices For Loving Your Life as the springboard for our weekly conversations. I'll share the details soon.
Here's a piece I wrote at the end of 2014, about savoring this last bit of the year. I hope you enjoy it.