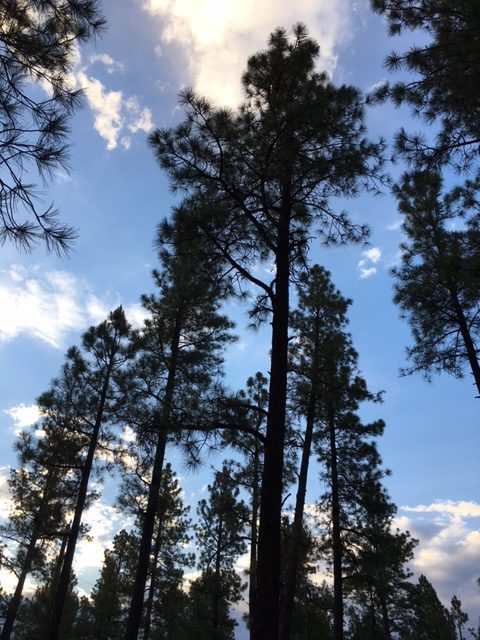 We've been very restless here at the Hon-Dah RV Park. There's not a lot to do in this small town, and, even though it's cooler than Phoenix, the 90° afternoons make it tough to be outside during the majority of the day. We haven't connected with any of the other 400 campers here, and the forest is very quiet.
I worked a shift at the Love Kitchen, but didn't feel welcomed or needed there, and I wasn't finding any other interesting volunteer opportunities. I tried to tell myself that all of this free time and space was ideal for writing my next book, but I kept hitting so much resistance.
I talked with Marika about getting back on the road, but it's still pretty darn hot in most of the country. And then I wondered if traveling was just a distraction from something bigger I am supposed to be transforming right here in this quiet uncomfortableness.
And we really do have it pretty good here. It's very affordable, the dogs can run free in the forest, there are no ticks and very few mosquitoes, we're seeing Rufus and Broad-Tailed hummingbirds at Marika's feeders, and we've seen wild horses and even a bear not far from our campsite.
But we were both ready for something to shift, to have some responsibility in the world, to wake up and feel like we have a purpose.
Yesterday morning, we drove to Fool Hollow Lake so I could FINALLY go paddling. We mentioned to our Ranger friend in the office that we were again available, in case they needed a last-minute camp host. They had called us a few weeks before to be tent hosts, but Marika was down in Phoenix taking care of our friend, and the tent hosts share a site with the other tent hosts, and I wasn't interested in that.
On the drive to the boat ramp, we stopped to chat with another one of the permanent Rangers, and she told us that one of the host couples had just that morning been asked to leave, and they were actually now looking for another host couple.
Ten minutes later the Head Ranger pulled up to where we were inflating the kayak and offered us the position.
So yes, we'll be going back to Fool Hollow Lake State Park this Sunday to be camp hosts for the rest of the season. This time, instead of being Rover Hosts, we'll have our own loop of campsites and bathrooms to clean. And we'll be available to campers for questions. We'll also sell firewood and ice 2 days a week when the other host is off duty.
Marika and I are thrilled, excited, and in awe of the synchronicity and simplicity of it all. And I am excited that we will be back near water, and in big sky territory for the monsoon season.
And no, I didn't get on the water because, after I pumped up the kayak, I realized I had forgotten the seats. But I guess I wasn't there to paddle!