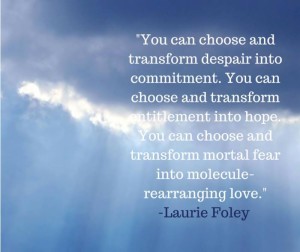 My friend Laurie is dying. While I have lost two childhood friends to cancer, Laurie is the first friend who I have walked the path with, even if it has been mostly virtually.
I met Laurie Foley online in 2012 through a network of Martha Beck coaches. She was a branding expert with a very smart blog that helped me see new possibilities for marketing my business. When she was diagnosed with ovarian cancer, she shifted her writing to the journey she was living.
In October 2013 I met Laurie in person at Patti Digh's Life is a Verb camp. Laurie had just finished a year of surgeries, radiation and chemo and Patti had invited her to speak about The Courage to Be Mortal.
I saw Laurie at the Friday night Welcome Party, standing near the skewered shrimps and mini quiches. She was much taller than I expected and her hair was a stunning spiking gray. She walked toward me, offering a hug. I said, "Wait, this is special." I took a big breath in then out, and then we hugged, full on and tight, like we'd know each other for years.
The next day Laurie shared her story. Click on her photo to hear her wisdoms about our power to transform the energy of terror into commitment, and entitlement into hope.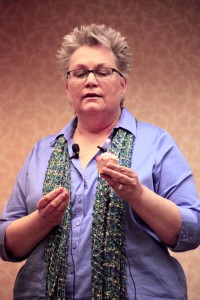 Laurie continued to live and share her journey online through another series of treatments and complications and finally, remission.
She wrote a month of meditations, her personal experiment in returning to simple prayer. She posted photos of her latest knitting projects, often a much-coveted pair of multicolored socks, and videos of her son Arthur's yoyo competitions. She was excited that she was going to be there for his high school graduation. And that he was going to her Alma Mater, Georgia Tech, where she was the first woman to receive a PhD in computer science.
And then the cancer came back.
When I was in Atlanta last May on my Heart Sparks Road Tour, Cupcake Laurie, my new nickname for her, drove up to my campsite for a visit. It had been a few weeks since she finished her last round of chemo and she was feeling better than she had in months.
She sat at the dinette with Cody at her feet and we talked about Arthur, and Georgia Tech and the best place to get bagels. She was full of questions about how the RV plumbing worked, and the solar panels and all about my life on the road.
When I offered her a Little Debbie Nutty Bar from the freezer, she grinned like a five year old. "Oh wow," she said. "My grandmother used to give us those as a special treat. I haven't had one in years." We split a package and it was as good as she remembered.
We sat down for lunch at her favorite Mexican restaurant and I realized that I hadn't been trying to impress her, or coach her, or get her to like me. We were just two smart, funny women, talking and laughing and wondering about life out loud, together.
I said, "You know, I thought you were just being nice, coming to visit me. But you really like me, don't you?"
"Oh my God," she said, her soft southern voice sounded like she was talking in bold type. "Are you kidding?"
After lunch we checked in about her energy level and she was still feeling good, and she wanted to go to the used bookstore. She found a thick historical novel and I got a couple of Lillian Braun's The Cat Whos. We got gas and an iced tea and she still had enough stamina to take us to the Dekalb Market, a warehouse exploding with fresh produce, meats, cheeses, teas, spices and even a bakery. After she gave me a quick lay of the store, we agreed to split up with our own carts to quick shop, and meet at the coffee bar before checking out.
It was so very fun to pass her near the lemons, again by the bread and again at the day-old cakes. And each time, I'd say, "Why, Laurie, how nice to see YOU here!" And I'd give her a big, good to see you hug.
I sent her a postcard from the road, made from a Little Debbie Nutty Bar box, with the words "living life one sweet bite at a time" typed on a section of index card and glued across the front. I hope it made her grin.
Last fall, remission turned into a fractured hip and more cancer. Laurie met it aggressively, hopefully, and she continued to post her cancer haiku's and CaringBridge updates on Facebook. In December, her sister took over the updates.
Laurie entered hospice last week. The pouring out of love and grief on Facebook has been nothing less than holy. People from all over the world are posting photos of Laurie, sending prayers and love and thank you's.
And I am allowing myself to cry and feel the collective sadness, the collective love, the swirl of giant love energy that I am called into whenever I think of her.
Laurie has always been a generous woman, connecting others, mentoring, always leading with love. Even now, through this transition, she has opened up a space for us to feel and share our sadness and loss and love for her and her family, and we are all following and liking and reading and sharing and saying I love you in our own ways.
For me it is by telling my Cupcake Laurie stories. Just the few I have, but they are full and rich and tender. And they connect me right back to her and the giant swirl of love.
"I hope that you'll remember whatever really raw ingredients life may bring your way, you have the power to choose and transform them into something sweet, into something loving, and profoundly hopeful."
~ LAURIE FOLEY