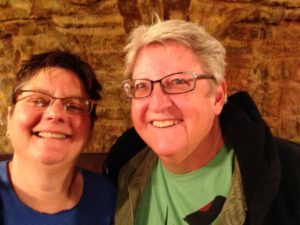 After our immersion of 11 days, 3 times a day treatments in the radon mine, we were both excited to have some free time to get out and start exploring the area.
On Thursday morning we went to the tiny Farmer's Market in the next town. On the way, I said, "I think I'm finally going to find my silver earrings today. And for a reasonable price."
And I DID. A retired man named Bob makes chain-maille earrings, different designs, different colors. Only $12. And if I lose one, I can send him the remainder and he'll make a new one for $6.  WOW!
We also got delicious snow peas from the youth garden, and beets, apricots, baby carrots, zucchini, a bag of purple, yellow and white cauliflower, and a quart of relish pickles, all from nearby Conrad, MT.
We had fun going up and down every aisle in the hometown hardware store, past crock pots and BBQ grills, fishing lures and poles, glue sticks, rubber gloves, knives, bullets, and contact paper that looked like wood. There were also the expected paint cans and color samples, an aisle for plumbing and electrical, and, in the backroom, old metal drawers neatly hand labeled for every size spring, screw, nut and bolt. And, in the showroom through the last door, there were washers and dryers, a refrigerator, and several models of wood stoves. I looked for a new hooking key chain. The man behind the counter showed me three kinds, but they were all too bulky, so we just bought a pair of earplugs for 49¢.
Outside, we took pictures of the old murals on the sides of the brick building, and checked out the six-lane bowling alley/bar/casino. Tim, the owner, was in his office counting dollar bills while he answered my questions. Bowling is from noon to 2 am, every day. $2.75 a game and 75¢ for shoes. We thought we'd invite our new friends Barry and Madge, from the campground, to play.
We stopped in the Boulder Historical Society and talked with the volunteers who were compiling marriage and death dates from old newspapers. And then suddenly, I had to go outside and sit on a bench. I was exhausted.
We skipped lunch at the Local Supper Club Restaurant and headed home. I ate some turkey and some of the pickles, in case it was just low blood sugar. Marika checked my oxygen level-97%, and my blood pressure-117/70. Everything was normal, so I got into bed. I slept for three hours, got up, peed, had a pretzel and went to sleep again until 7.
I watched Chelsea Clinton introduce her mother, listened to Hillary's speech, and went to bed after 10. I didn't get up again until 10 in the morning.
I realized I had what they call the mine sickness. It's the body processing all of the radon gas. And I just needed to rest, drink lots of water, and ride it out.
I ate a bowl of cereal, talked with Marika, checked my email, and went back to sleep for another 3 hours. In the evening I put on some clothes and went for a short walk, but I had to lie down when I got back.
As I laid in bed, too tired to do anything between sleeping, I remembered that when I've gone to retreats, another kind of immersion, each time, I've come home exhausted. Once I realized this, I leaned all the way in, grateful that we had nothing on the calendar for the rest of the week. I allowed myself to sleep, watch TV, and eat whatever sounded good. And I walked a little, to keep my body from getting sore and stiff.
And, in this down time, I opened up my copy of Heart Sparks to the first practice, realizing that Grounding is exactly what this is, and exactly what I need.
After this amazing experience, and really, ALL of the changes since we decided to live this new life on the road, nothing is the same. And so now is a time to begin again, to ground myself and explore what ELSE I want to live into.
I am re-committing to a daily stretching practice. And brisk walking. And deep breathing. I'm hardly coughing, but my lungs still feel tight and I get winded after exertion. But we are at 5600'. I'm curious to see how things will be once we are on the coast, at sea level. I also feel looser in my hips and joints. Marika hasn't admitted to any improvements yet, but it can take a few weeks for benefits to appear.
I felt 100% by Sunday and we had a blast bowling with Barry and Madge. The gals bowled and Barry kept score. It was so much fun, even if my muscles were screaming sore the next day. It reminded me that I like doing something over and over again to hone the skill and get better. And that I can trust my body to be more physical and active. And how much I like to have fun!