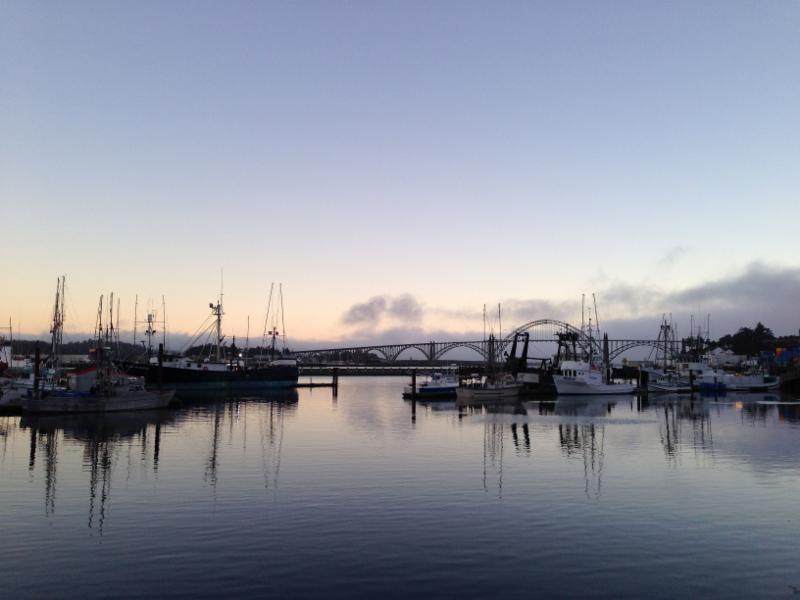 We're still in Newport, with wind and fog, cool air, some sun. This morning it was clear blue and gorgeous and we were out in it, exploring the Yaquina Head Lighthouse and Headlands. We even hiked the quarter mile to the top of Salal Hill with a 36% grade! Marika's knees are still pretty sore, but we're walking every day! And it is so much easier for me to breathe here!!
We decided to stay three extra days to make up for the days we lost not being here sooner. We're eating local Dungeness crab, fresh, off-the-boat halibut and salmon, clam chowder and oysters. And the Farmer's Market is gorgeous and delicious, with peaches, peppers, sweet carrots and heirloom tomatoes.
On Friday we went to the free "Shop the Dock" program at the commercial docks and learned about the different fisheries in the area and the difference between trolling, catching one fish at a time on a line, and trawling, using a large net to catch many fish. A halibut fisherman demonstrated how fast you have to work when reeling in a 40-foot fish by hand.
We went to the Lincoln County Fair and ate corn dogs, and we checked out the exhibits at the local art centers in Nye Beach. I paddled in a handmade kayak at the Wooden Boat Festival in Toledo, and we watched gray whales feed so close to the shore at the Headlands.
We've been walking the estuary trail along the back of Yaquina Bay, watching mostly gulls and cormorants bob in the water. I'm riding my bike along the paved bike paths, out to the jetty and around the marina, and remembering how much more I enjoy biking than walking.
And in the midst of all of this exploring and delighting, I enjoyed a one-on-one Mac phone session with a new client, hosted the last live Q&A phone call with my Organized Mac students, and facilitated the amazing Dream Altars workshop.
It is this balance of working and playing that makes me most happy, that I'd like more of.
Surprisingly, I haven't yet spent any time at the ocean. The waves feel too big and loud, and it has been so darn windy. So I have been appreciating the gentleness and proximity of the bay, and the views from inside the motorhome.
We'll be heading south to Florence and staying at the Port of Siuslaw for the rest of August, enjoying more seafood and fresh, local goodness, and seeing and experiencing whatever lies ahead.