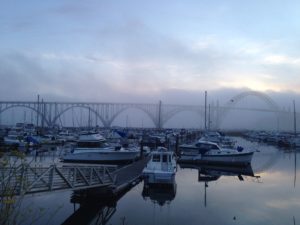 Last week we were still in Montana, awaiting a fix on a faulty tire sensor on our tow vehicle. We spent the night in the Walmart parking lot with a dozen other motor homers, and chatted with a young couple traveling across the country in an SUV, visiting every National Park.
On Wednesday at noon, we finally hitched the car and headed west. It was a long three days of driving, 789 miles through Idaho and Washington, and we finally pulled into the marina in Newport, Oregon on Friday after 5, tired and happy to have finally arrived.
We drove over to the seafood market for dinner to go, came home and prepared fresh Dungeness crab meat on a bed of romaine for me, the best clam chowder and smoked oysters for Marika, and a kid's portion of local fish and chips with extra tartar sauce to share.
We spent the night in the dry camping area behind the marina buildings, across the bay from the active fishing port, then moved into our reserved spot in the main campground/parking lot on Saturday.
We restocked the pantry at the Farmer's Market with peaches, blackberries, heirloom tomatoes, cucumbers, carrots, eggplant, sourdough bread and amazing almond pastries. Marika made crab cakes one night and a vegetable medley with chicken another.
On Monday, we moved again to the annex area for 4 nights, where the spaces are smaller and even closer together.
But it's all about the location. We are at the marina, which is between the ocean and the bay, next to the Oregon Aquarium and Hatfield Marine Research Center, and the crabbing pier, the estuary, and the Yaquina Head Lighthouse. And we hear barking seals and screaming gulls and honking Canada geese, even with the windows closed.
And there are bike paths! I rode out to the jetty and around the day use area, the mist from the fog cooling my skin and the sea air filling my lungs so deeply that I felt them expanding in my back body. In the afternoon the fog hangs low and the wind picks up and the Yaquina Bridge fades in and out of view.
And it is again a balance of daily living and sightseeing, client calls and bike rides. Yesterday I taught the magical Dream Altars workshop at a studio in Yachats and I couldn't help but reflect back to nineteen years ago when all of this was just a dream for me, for Marika, for us. I made a new altar, to spark the energies of my next big dream, which is all this, and so much more.