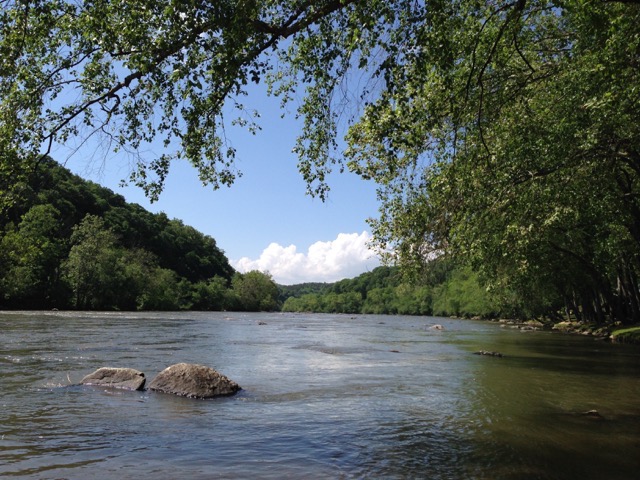 I am staying in Asheville, NC at least through June 11. Maybe through July 4th, if I can get reservations. Because it is beautiful. Because I have friends here. Because I haven't felt this clear and good and present in a long time.
By choosing to stay, everything has shifted. I can completely relax into being here and soaking up everything without being distracted by needing to think about where and what is next.
I have been practicing sitting by the river, watching the water. Not thinking or planning or taking pictures, just being fully present to the ripples and the birds and the rich smells. Some efforts are more successful than others, but I just come back to my breath and the water and try again.
And I'm learning how to enjoy being more social.
I'm saying yes to dinner invitations. I'm inviting friends to come sit with me by the river. I'm making one sweet connection at a time, me being able to offer a relaxing space of time to visit and get to know more of these mostly Facebook friends.
I even said yes to going for a bike ride with a hard core cycling friend. I told her my limit was probably five miles, and she said fine. But when I looked at the road, a two lane, curving mountain road with no shoulder or bike lane, I heard myself say a big NO. Was I being a woos? it didn't matter. I didn't feel comfortable riding under those conditions. So I told my friend how I felt and said that, if she could find a bike path, I'd still ride. But instead, we had a wonderful conversation just sitting by the water.
Sometimes it's just about saying yes… even if you don't end up following through. Because you've opened yourself up. The intention is there. You've moved a step in a Yes direction.
Saying NO is not a sign of failure or weakness. In fact, saying No AFTER saying yes can be even MORE empowering.
In the past two weeks I've spent a lot of time with friends. Lunches, dinners, a drumming circle, grocery shopping, the Farmer's Market, many sitting times on the river. On Saturday Cody and I joined our friend Ursula for a hike and in the evening we sat outside at our friend Anna's house for lovely little dinner party, looking out over the seven mountain ridges that stretch from Asheville to Tennessee.
I've loved all of it. But, between all of the activity and spending so much time outside in the pollen-filled breeze, I ended up with a little sinus infection. And I was tired.
So on Sunday, after working in-person with a Mac client, I just wanted to nap and stay inside. But I had invited Joann, a friend of a friend, to come and sit by the river in the afternoon.
I emailed Joann that I'd really like to reschedule, and she completely understood. I was so relieved. I took an hour nap, woke up stuffy and groggy and just hung out the rest of the day, so grateful for the space to just be.
There are times when I start to spin my wheels, and get all wrapped up in thinking about the travel back west. I have to be back in Phoenix by August 5 to fly to Colorado Springs for a big training job. But I have no clear ideas, just some options… and so I have to let it go.
And I come back to being right here. Right now. Where the river is flowing from south to north, and the sky is hinting at more rain. I shift my focus to how full my heart feels right now and remind myself that I have two whole weeks before I need to know what's next. And so really the question is what do I want to do now.
For most of this trip I've had a theme song for each state. In New Mexico it was Paul Simon's "Hearts and Bones," in Texas it was Glen Campbell's "Galveston." Then Linda Ronstadt's "Blue Bayou" in Louisiana, "Mississippi moon won't you keep on shining on me," "Sweet Home Alabama," and "Georgia on My Mind."
But here in North Carolina, camped on the banks of the French Broad River, it took a few days to choose. Loggins and Messina's "Watching the River Run," captures it all.
"If you've been thinking you're all that you've got
don't feel alone anymore
When we're together then you've got a lot
I am the river and you are the shore
And it goes on and on, watching the river run
Further and further from things that we've done
Leaving them one by one
And we have just begun, watching the river run
Listening, learning, yearning, run river run…"
And so I am here, listening, learning and exploring what I might really be yearning. And watching the river run. (Click to watch the river with me!)