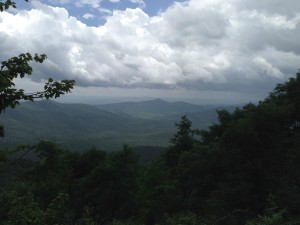 I am still in Asheville, North Carolina, camped along the glorious French Broad River. I am so grateful that this stretch of river is wide, and that I can see so much sky.
I've been renting a car so it's easier to run errands, meet people, and explore some places around Asheville without having to worry about Cody and parking.
It's been great. So great that I rented the car for a second week and will probably do a third. Because it's freedom. There have even been a few days that I didn't even go anywhere. But knowing that I can if I want to, has been so stress relieving.
One by one, I've been eliminating all stressors and distractions, settling into being in this beautiful place to make space for what is coming. And of course, with all of that letting go, things got uncomfortable.
Last week, two of my friends were out of town and it was a quiet work week, so I had a lot of time to be with myself and my thoughts. Yes, I had a car, but I didn't have the desire to go exploring alone. And besides, driving on those curving mountain roads in a subcompact rental car was not very fun, and I still had no sense of direction because everything, all around, looks the same.
I'm a western gal, accustomed to five lanes on a city street and even more on the freeways. You can see for miles and know exactly where you are, based on certain landmarks. Here, in this southern mountain town, I was beginning to feel a little closed in. Especially when the only way to see the sky is to look directly up.
People suggested I drive up to the Blue Ridge Parkway so I could experience the magnificent vista of mountains and sky as far as I could see.
But I have an aversion to high altitude overlooks. The vastness makes me queasy and un-easy. Looking down makes me feel like I am falling. So a mountaintop vista was not was I was looking for.
Instead, I drove south of Asheville to visit the Carl Sandburg Historical Site. It was beautiful and interesting, but mostly I cried. I was still in the forest of trees and mountains, and, even though there are a hundred shades of green, it is all green, only green, and hardly any sky.
I'm sure it was also hormones and loneliness and not knowing what is next on this journey.
When I got home I started spinning into the future. Should start planning my trip west? What was I doing after my big training job in Phoenix? Am I heading back to CA? Should I continue up the coast to finally visit the San Juan Islands? Should I apply to be a camp host/tour guide at a lighthouse in Oregon in October? Was I going to have to stay parked in Marika's driveway until I had a plan?
I had this need to know where I was headed, but, as much as I tried to plan something, nothing was jelling.
So I stepped back, and returned to being here.
I asked myself, what am I doing more of now that I didn't do before. And what am I NOT doing now that I WAS doing before. And I realized I'd been sitting and watching more TV, and I hadn't been stretching or doing my simple yoga poses. With all of the rain, we were walking less, and it had been three days since I had stood in the river.
So I put on my bathing suit and purple water shoes and walked into the water. I practiced my forward bends, planting my hands in the rocky river bed, feeling myself supported and stable, even with the rush of water passing over me. And I breathed.
And something released inside of me. I don't have to know what I'll be doing in September and October. I only need to plan as far as I can feel, trusting that each step will lead to the next.
And of course, as soon as I relaxed into this thought, new opportunities presented themselves. I booked two internet radio show interviews and a paid speaking gig appeared in Memphis, Tennessee.
Often, we think we need to keep pushing through to figure things out, that we have to be tenacious and stick with it to make something happen. Or else we have failed.
But usually, when we are in that place of stuckness, the best next action step is to simply pause and breathe. Step back for some perspective and reconnect with the basics: what do you really want, and how do you want to feel.
I wanted to feel spacious, open, ready for this next big thing. I wanted to feel the thrill of doing something that was new and exciting. I wanted the momentum of doing something in my physical body to propel the rest of my being into this amazing state of Yes.
In the past few weeks I've had several opportunities to go to that kind of thrill edge – riding my bike on a narrow winding mountain road without a bike lane, kayaking down the fast-moving, rock-strewn French Broad River. Someone even asked if I wanted to go zip-lining in the trees. And while each of these activities would have challenged my physical body, they felt extreme. Dangerous. Too edgy.
But I had to do something because the experience of being in the thick trees, unable to see anything beyond what was right in front of me was getting too uncomfortable, literally and figuratively.
And then I had to laugh. Of course I had to challenge my fear of big, wide vistas. I had to go to the top of the mountain.
While I was quietly contemplating where and when to do this, a friend suggested we have lunch at the Pisgah Inn, near the top of Mt. Pisgah, a 5700-foot peak along the Blue Ridge Parkway.
I even drove. The road wasn't nearly as tight and windy as the mountain roads that I'm used to in Arizona. And because I was driving, I had my eyes on the road, not the sides of the two-lane highway, lined on both sides by towering green trees.
There was a series of short, un-illuminated tunnels that cut through the mountain. The sign said to turn your headlights on. Still, the first tunnel was a surprise. It was total darkness except for my own car's headlights. It was a little scary, not being able to see very far in front of me, but by the third one, I was actually enjoying the thrill of driving in the dark.
The view from the Mt. Pisgah Inn was incredible. Even with the clouds, I could see so many layers of mountain ranges stretched across the horizon line. I stepped up to the railing and looked out. Nothing in my body was freaking out. Instead it felt like a big, deep breath of open space, and beauty, and possibility.
Listen to some recent interviews:
Ruth talks with Erica Harey-Butcher about getting un-stuck and taking action on Catch Good health blogtalkradio.
Ruth joins Janice Plado Dalager and Kim Pottle Hancock on the Middle of Nowhere podcast.
Read an interview with Vicky White of The Spacious Life about my life on the road.