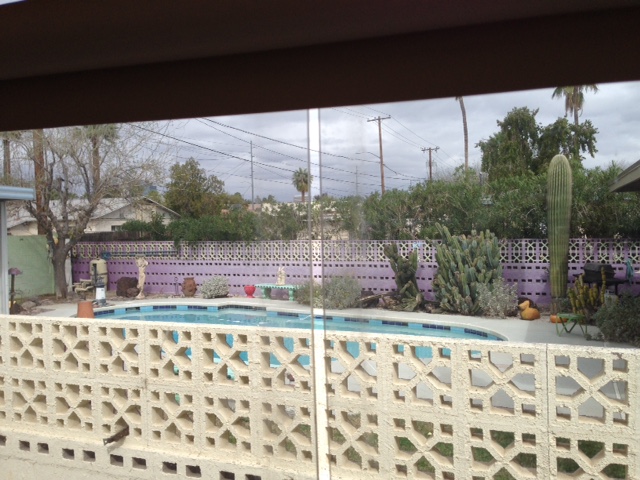 After the two day drive from Paradise to Phoenix, we are settled into Marika's driveway with electricity and water and indoor plumbing. This is Home for the next month. Mabel and Cody are still ignoring each other, keeping their distance, but we all hang out in the RV, and in the yard and in the living room and all is well.
I am so proud of myself –  I drove a new route and even stopped to visit with a friend before pulling into the back parking lot of a casino on I-10 to stop for the night. We slept well despite the big winds and got back on the road before 7:30, and arrived in Phoenix a little after one on Saturday.
On Sunday I got up earlier than usual, peed in the house, then went back to the RV and slept for another hour, until the chorus of bird songs got me out of bed. Marika and I had coffee on the patio and I played ball in the yard with Cody.
Now Marika is out food shopping and Mabel, Cody and I are in the RV, relaxing. I had Cody and Mabel both playing with me for two good tosses before he got too close to her football. She growled, walked away and carried the ball into the house. I followed her and coaxed her back out and this time Cody kept his ball in his mouth and gave her more room. We played for another short stint then came in here for me to work.
And I offered them a treat. When I took down Cody's treat bucket, they went after each other. My fault, because I didn't put them on a sit first. But I corrected them quickly and they were terrific. Now Mabel is in my bed with a small wound on her snout, and Cody is under the table, in his bed, and everyone is finally at ease.
The western sky is darkening and the wind chimes that Marika hung in her mother's memory are playing a steady tune in the sudden wind. I hear no birds, just a helicopter to the south, out of view.
The roller shade over the dinette is up and my new view overlooks Marika's backyard with the faded grape-colored block fence, the many shades of greens cacti and the turquoise water of the swimming pool.
We are feeling so at home.
This week I will ease into a full Mac client work schedule, with several errands mixed in: get the RV emissions tested, get a new battery for my iPhone, see the gynecologist and take my bike in for a tune-up. And next Sunday, I'll be collaborating on the first of many Heart Sparks events: a gentle yoga and writing workshop in Casa Grande, AZ. There are still a few spots left if you'd like to join us. All of the details are here.