Today, February 18, would have been my older brother Lenny's 57th birthday. He died in 1965 at the age of 7 from neuroblastoma, a rare form of cancer. I think he would have been an architect, a really nice guy, and my biggest fan.
To honor his life and our continued connection even after all this time, I'm sharing a piece I wrote about him in 2001 in a writing group.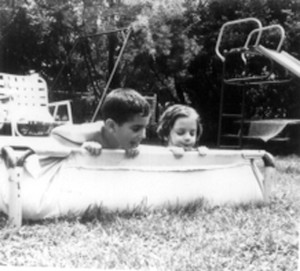 My brother Lenny and I were best friends. We shared a bedroom. We loved knock-knock jokes. He was only thirteen months older than me.
Lenny's favorite toy was his Erector Set. We would sit Indian-style on opposite sides of the coffee table and build things. My six year old fingers were too clumsy with the small parts so I was Lenny's assistant. I handed him girders and screws and read the directions to make a helicopter just like the one on the outside of the metal carrying case. Sometimes Lenny even let me hold the wrench while he tightened.
Lenny had an operation to remove one of his kidneys and the scar ran like train tracks above the waistband of his white cotton underwear. He liked to run around the living room in his underwear, wearing my red knee socks and his maroon long sleeve t-shirt tied around his neck like a cape. He told everyone he was Superman.
Lenny and I loved the Beatles. We had both of their albums and the 45 of She Loves You. Our favorite part was the yeah, yeah, yeah's.
On one of our trips to the hospital for Lenny's chemotherapy, I got to pick out a toy for myself at the hospital gift shop. I chose The Beatles Flip Your Wig game. Lenny and I always fought over who would get to be Paul. Neither one of us ever wanted to be Ringo.
Before Lenny got sick, we played dress up together. He was Mary Poppins and I was Bert. He wore my tan jumper, a plastic wig and my mother's flowery high-heeled shoes. I wore my favorite corduroy pants and my father's brown lace up shoes. We knew all of the words to "Supercalifragilisticexpialidotious" by heart.
Lenny had a scar on his forehead from when I hit him with my plastic teapot. We had Crazy Foam fights in the bathtub. He taught me how to pee standing up. He used to shine the black goose-neck lamp on me like a spotlight while I stood on the base of my mother's Hoover upright vacuum cleaner, singing into the handle.
We both lost our voices from screaming the night my father took us to a wrestling match to see Bruno Semartino. He always beat me at Monopoly. He was tired a lot. His skin was yellow. He got really sick. And then he died.
I helped pick out the clothes for him to wear in the casket but I didn't go to the funeral because the pediatrician didn't think it was a good idea. Instead, my mom's best friend took me and her sons to an amusement park that day, but I don't remember anything, except the heaviness of Lenny's silver-banded Timex watch, loose around my wrist.