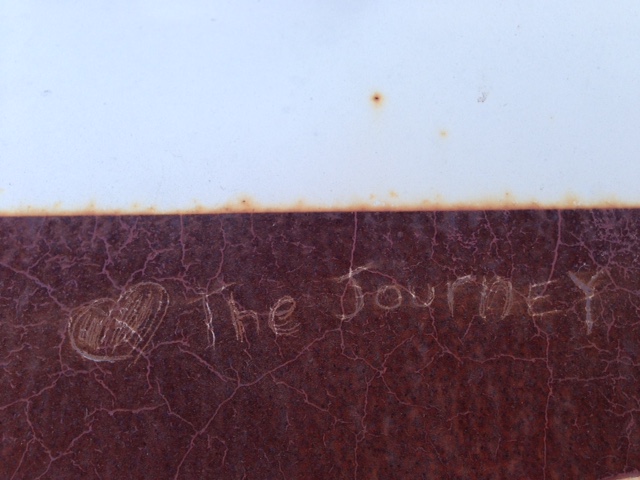 SUNDAY:
It is my last weekend in Phoenix and of course, I feel a mix of excitement and sadness, leaving Marika and Mabel and what I've gotten used to in order to experience what is next.
Present. Future. This is my mantra. Embrace what is, with an eye on the horizon. And so this morning, Marika and I enjoyed breakfast on the patio while I ticked off of a list of things I needed her help with. And then she listened to me while I bawled with gratitude, because of how supportive she is of my journey.
I said, "Can you imagine for a moment that this is a movie, and here I am, all ready to venture out by myself and suddenly you say OK, I'll go, and you quit your job and call your friend down the street to keep an eye on the house and you grab some clothes and your binoculars and spotting scope and you and Mabel join me. And everyone in the audience would be cheering!"
She was looking at me with a furrowed brow. "Am I upsetting you?" I asked. "No. I'm just listening."  "It's like Isaac and Abraham," I went on. "Abraham was ready to sacrifice his son to God, but he didn't have to. And I am ready and willing to go on this journey alone, but then, at the last minute you could decide to go too."
I cried, letting the dream fill the space. And then I let it go.
Because I know this is my journey, my adventure, my (w)rite of passage.
And even though she isn't going with me, she is a part of it. She helped me get my bike on the rack. She double checked the engine oil. She washed my big windshield. And when I asked if I could have the homemade chicken soup that was in the freezer, in case I get sick, she gave me the matzoh balls too.
She even offered to spray paint the rusted stripe across the hood, but I asked her to scratch something in it instead. When I read it, of course, I cried.
MONDAY:
Last night, I had everything packed in, my driving clothes were set out and I had a short list of last minute things to gather in the morning. I was in the RV, ready to rinse my hands and I turned on the water pump, which I hadn't been using much since I was using the guest bathroom in the house. But the monitor light didn't turn on. No pump. I tried a few times and the light flickered but didn't stay on. No pump, no water. No water, no camping.
I went to bed assuming I wasn't leaving first thing in the morning. That I would call a mobile repair person and go from there.
This morning, Marika suggested I may just need a new switch, so I unscrewed the cover to the monitor panel, turned off the electricity after I saw some sparking, and we discerned that no, it's not the same easy-fix switch that we did in the bathroom. So I put the panel cover back on. But now none of the switches lit up.
I'm thinking that it is not the pump, but an electrical problem. Maybe just a loose wire, or something else the mice chewed through or ???
The mobile repair man will be here this afternoon between 1 and 3. And so I am finding ways to be grateful for this free day. I re-made a first night's reservation for tomorrow night, forfeiting the $14.00 I paid for tonight's spot. And I rearranged my dates for Austin since I couldn't find a Saturday camp site and now feel an ease and spaciousness in the upcoming week's schedule.
I got some work done and later I'll vacuum the house and make a big salad for dinner.
The biggest jolt of emotion about my change in travel plans is about the COST of the pending repair. Not the fact that I've been delayed, or that something needs to be fixed, but the SPENDING OF MORE MONEY that has not budgeted.
And then I am remind myself that money is energy and it needs to keep moving to increase its flow and in today's I received the check from Changing Hands Bookstore for the books I sold last week at the big event.
I suspect that it will be enough to cover today's repair. And it makes way for even MORE money to flow.
I am especially intrigued that the issue seems to be electric and that it showed up reflected in the WATER pump….both such obvious conduits of energy and all signs to allow the flow of energy….all kinds of energies…. and to simply let go….
LATER:
OMG! It was a fuse. A FUSE. I can understand that those sparks I saw probably blew the fuse, and that's why none of the monitor lights worked. But was it the fuse that affected only the water pump or was it something else?
It leaves me curious, but, bottom line, the water pump is working, the monitor lights are working and it ONLY cost me $85.00.
For whatever reason I was not meant to leave today, I am grateful. I enjoyed the breathing room and the opportunity to watch myself respond to an unexpected thing. And I got to talk on the phone with one dear friend and spend some wonderful, in-person, lots of hugging, visiting time with a another. I will be leaving tomorrow, Tuesday morning, venturing out, all systems go.
TUESDAY:
II was all packed up, showered and gathering things to leave. Marika came in to see the working water pump switch. And it didn't work. Again. I called the repair guy and he said he'd be there around 10. Just before he got here, I turned on the A/C and guess what, the water pump monitor switch suddenly worked.
He had no explanation, and my concern is that it will stop working again, and only turn on when the A/C is on (which can only happen when I'm plugged into electricity). He replaced the switch, just in case, and checked for any loose wires, but he couldn't reproduce the problem, so he couldn't fix it or guarantee that it wouldn't happen again.
I do understand this. Sometimes I have the same experience with troubleshooting with my Mac clients. Sometimes, I just have some kind of magic touch and things are suddenly fixed. So, if I know that happens, could this be that kind of magic too?
Or is there still a problem?
I called a few RV dealerships and they also said they can't diagnose it if it's working. And besides that, they are booked through next week.
So I am still parked in the driveway, crying a lot, not knowing what the next step is. If the light works tomorrow, does that mean it's fixed? Or is there really a bigger issue that needs to be taken care of? I do know that I don't want to be out on the road with a big electrical problem.
I'm writing and journaling and playing with the dogs. I called a friend. I watched some TV. I'm moving through this, trying to just stay right here, right now, breathing into the spaces between the frustration and disappointment to reconnect with the bigger WHY of the trip. One good thing – I'm going to enjoy Tamale Tuesday at my favorite Mexican restaurant tonight.
Keep up with the Heart Sparks Journey–sign up for Heart Sparks in your inbox