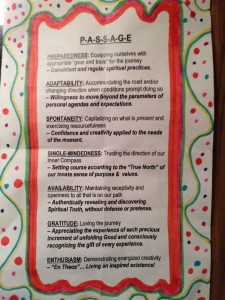 In January, I chose Passage as my guiding word for the year. Based on the acronym that Reverend Tinker shared, it seemed the perfect choice to keep me focused and moving on this journey.
P=Preparedness
A=Adaptability
S=Spontaneity
S=Single-mindedness
A=Availability
G=Gratitude
E=Enthusiasm
But now, six months later, I am here in Asheville and I feel like I am on the other side of that passage. That I have somehow arrived in a new place with myself.
I've been here in this campground for almost a month, and I have needed this time to collect myself, to step back and realize how I got here, literally and figuratively. And I have been loving this time of contemplation and quiet, days of sitting and watching the river.
But now, I am beginning to feel antsy. Bored. And I'm feeling that handing out books to campers is no longer enough. I'm ready to be more active.
Action is one step, then another. Being active is staying engaged, participating, connecting. It is being activated.
After almost 30 years in my Mac business, it's easy for me to forget that starting a new business (and that's what I'm doing with my book and my writing), requires daily attention, actions, stretching, growing, activating.
But as my Mac business is, in many ways, becoming more passive, I too have become less involved, less engaged, less motivated and excited about creating something new.
But now I am realizing that I am ready for more activity. I am consciously reminding myself that this new work is what excites me. That I LIKE talking about my book. And that I can use the skills and tools I've been using in my Mac business to get this new work out into the world.
Several folks have asked if I am writing a book about this adventure. One friend suggested that, instead of just focusing on a bigger story of a book, to start with a short e-book, highlighting some of the things I'm learning about this kind of journeying.
This excites me. It's a small enough project to make happen while I am here, in this open-hearted place by the river. It gives me a focus for my daily writing. And if I give myself a deadline, it will get done.
So I have begun this new writing project and would love to know what you might want to know about RV living in general, this journey I'm on, or anything else you're curious about.
Meanwhile, I will be a guest on two internet radio shows next week, talking about Heart Sparks, Creativity and who knows what else! Stay tuned for details!