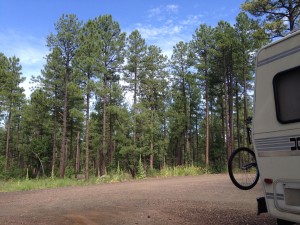 Whenever I return from traveling, I give myself a day with nothing planned so that I can re-adjust to the time zone, take a nap if I need to, do laundry, and unpack my own self from the experience before jumping back into daily life.
And so I'm spending this last week of the Heart Sparks Road Tour in the mountains of Pinetop-Lakeside, AZ, just relaxing, before heading down into the summer-hot Phoenix valley to begin a month of Mac training.
I've been on the road for 110 days, passed through 3 time zones, 10 states and stayed in 26 different camping spots. After the last two weeks of hopscotching from Memphis, TN, to Alabama, then Tennessee again, through Arkansas, Oklahoma, Texas and New Mexico, I am so glad to be in Arizona, knowing that I don't have to drive anywhere for a whole week.
Even though I only drove 2-3 hours each day, it seemed like a long trip because it was too hot and muggy to venture out for anything more than a quick round of ball playing. I did eat some fried catfish in Oklahoma and almost took a limousine to the famous Big Texan steakhouse in Amarillo, but mostly I stayed inside watching Drop Dead Diva on Netflix.
Most places I only stayed one night, but in Toad Suck, Arkansas, we stayed for two because we were camped right on the Arkansas River in full shade, and we could walk in the early morning and evening without getting overheated or mosquito bitten.
But in Arkansas, the water heater stopped working. I thought it might be because of the high humidity, but in even after we arrived in the cool, high desert of Pie Town, New Mexico, the pilot still wouldn't light. And then my worst fear happened. The air conditioner compressor stopped working. Thank God it was cool enough that I didn't HAVE to have it on. But I'd need it in Phoenix and beyond.
I'm living in a 1989 motorhome. Marika and I bought it when it was 5 years old with only 9500 miles on it. Now it has 60,000 miles and the wall heater no longer works. The generator needs a new fuel line. And now no hot water OR air conditioning. Did it make any sense to keep putting money into it? But if I didn't, where was I going to stay? I didn't want to sleep on the air mattress in Marika's house. And what about California? If I'm not at Paradise Park, where will I live? Would I be stuck in Phoenix, living at my father's house? I had no cell reception and barely a wifi signal and I was the only camper in the five-space park. And the engine hook was stuck shut so I couldn't even check the oil.
And I freaked out.
Suddenly, I felt like I was going to be forced backwards into something. I bawled and cried and then even laughed, because sometimes I guess I need big jolts to make changes in my life.
A Facebook friend reminded me that it would all work out, and I was able to believe it. I told myself that I didn't have to make any new life decisions, I just needed to get gas, and drive two hours to Pinetop where I could at least get an estimate for the repairs. I was even able to sing without crying as I followed the wide open sky across the border into northeastern Arizona.
When I got to Pinetop, I called a mobile RV repair guy. After testing the circuit board and checking all of the connections, he determined it was a voltage problem. I told him about the trouble I had with the switch for the water pump back in April and indeed, the problem was just a loose monitor panel plug.
And the a/c was suddenly working again! Blowing a cool 55° according to the guy. I realized that the last RV Park had wonky electric hookups and the compressor just wasn't getting enough juice to run. So all is working in my world again and I am happily settling into my wonderful-again home.
I don't know yet what I want next, and that's really OK. I need to spend some good time and energy honoring all that has transpired these last four months on the road. To take an inventory of what I loved most, what I might want to do again, what I'm most surprised by, and proud of. And in those questions I'm sure I'll begin to vision and feel my way into what I might want next.
But for now, I am tuning my ears to the northern bird songs and adjusting my body to the dry mountain air and the sky that gets darker so much earlier in the evening.
And I am deep breathing. Not by practice, but because we are at 7400 feet in the Apache-Sitgraves National Forest, and my lungs are used to living at sea level.
I'm sure the enormity of what I have done, where I have been, and how I have grown more into myself will continue to reveal itself in these next weeks and months. But for now, I'm just grateful to be here, breathing clean air, walking in the forest and knowing that I am home.
How do you give yourself breathing room after a big event or vacation?
How do honor where you've been and what you've done before jumping back into the next thing?
I'd love to hear your stories. Please share in the comments below.