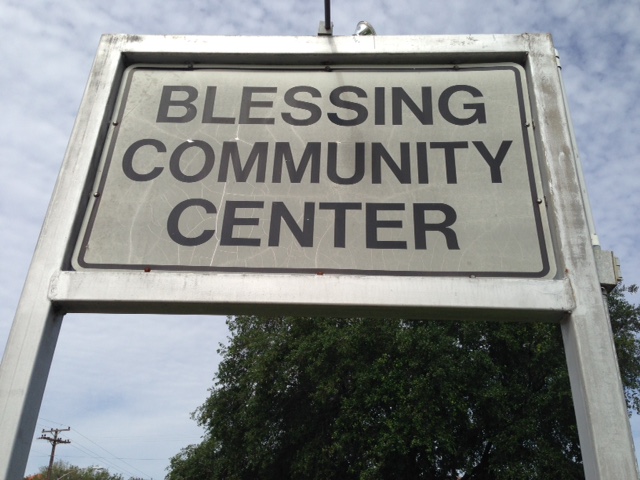 After the two day delay and the rush across New Mexico, I have settled into the rhythm of the road. Drive four hours, camp three or four days. This gives us a chance to be in a place, explore and take things in without rushing. And if we just want to have a day at home, without being a tourist, there's time and space for that too.
It's been quite a weather adventure along the Gulf Coast. On Friday night, after a day of exploring some parks, the marinas and the local art center, we experienced our first tornado warning. Camp neighbors, Cathie and Jack had introduced themselves when we pulled in on Thursday.
They're full-timers, here since October when she had some kind of knee surgery and has been bedridden until just a few days ago. Jack had stopped by later in the afternoon with a street map of the area and the bigger towns across the Causeway, where I was hoping to do some exploring on Friday.
He asked if I was tracking the weather. He had a weather radio and they were saying a pretty big storm might be coming through on Friday night. Big hail, big wind, maybe even a tornado. He said they'd be going over to the bathrooms if the wind got to be too much for Cathie. I asked him if they would take me and Cody with them if that happened and he said Absolutely.
So on Friday morning, Cody and I unplugged from the coolness of the air conditioning and drove over the two-mile long-Lyndon B. Johnson Causeway that crosses Copano Bay in Rockport and Fulton.
I went food shopping first, then we drove around, without BOB (my GPS) guiding us, just looking for some interesting places to stop and walk. I parked on the side of the road in front of a fancy B& B and watched the water slosh over the breaker wall. We pulled into a parking lot and watched pelicans flying. Eventually I parked on the street along the working marinas and we walked along the wooden docks, looking into the empty boats.
A couple was cleaning the deck of the boat closest to the bait shop. The woman gathered up fish scraps and carried them into the shop. Cody sniffed to the edges of the dock, where the water sloshed a foot below.
I drove over to a picnic area along the bay and I had lunch in the RV, out of the mugginess. Then we walked around the grassy area so Cody could enjoy a sniff fest. And then I decided to do the laundry. I found a coin-operated Laundromat with a lot big enough to park in. I waiting in the RV with Cody between cycles and we were done in less than two hours.
We drove over to the Rockport Art Center and walked a bit, then I put Cody in the RV so I could go inside. The Aquarium was there too, and free, but I was tired and the mugginess was getting to me. So we drove back over the bridge and returned to camp.
Backing into a camp spot is always a big question mark. Sometimes I can get it on the first try. Other times I can look in the mirror, get out and visually check, and still not get the angles right. This time I ended up pretty close to level, and glad for the slight angle. If we were going to get rain, this way it could drain off.
Cody and I took a quick walk when we got back and within an hour, the rain started. Slow at first, then nothing. But the weather channel was saying that around 10:00 a big storm would be here.
Jack and Cathie came over to check on us as the rain poured down. We were both watching the radar, tracking the bright yellow and red zones as they approached the notch in the land mass where we were camped. They said they'd come and get us if it got too bad.
I packed a survival bag with my wallet, a flashlight, a bottle of water, my phone and charger.
I called Marika. She was tracking the storm on her big TV screen. Tornado Watch, Flood Watch. I told her about the neighbors coming to get us and she reminded me to bring a bowl and water for Cody. And my headlight.
I plugged in my phone to charge it and laid down, trying to rest. It was already past my bedtime and I was tired. And anxious.
I checked the radar on wunderground every ten minutes, texting Marika with updates, trying to stay calm. Cody was alert, but I told him he was fine and that we were safe, and he put his head down and closed his eyes.
And then at 10:45 pm, Jack knocked on the RV door. A tornado was spotted three miles away and the Weather Service had just put up the official Tornado Warning. I grabbed my bag, locked the RV and we got in their truck and drove over to the concrete bathrooms near the Rec Hall. Rain poured down. The thunder cracked so loud and close that the lights went out for a moment.  It was pouring and thundering and the lightning lit up the sky all around. But there was no wind.
Cathie was telling me about the tornado they had in Missouri, and how they all went down to the cellar, all the kids and grandkids, the dogs and the cat. I kept watching the radar on my iPhone, texting Marika, not wanting to get caught in Cathie's hints of panic.
Cody was unphased. He stood near me, watching the rain, and he didn't even flinch at the thunder. I felt calm and safe and I guess he did too.
Jack held his weather radio up to his ear, full volume and it was still hard to hear. I watched the circle of yellow and red radar move on the screen just below the edge of Goose Island. There was still a wide trail of yellow and green coming, but the red section was moving out over the water.
And then the Tornado Warning changed back to a Watch and we drove back to camp. We were wet and tired, but it was a loud and thundering night so we didn't get much sleep. So on Saturday, we stayed home, reading, writing and walking around the campground between downpours.
This is how full-timing is different than just camping. There is no rush to have to see everything or always be doing something. Instead, I'm following the energies of each day.
On Sunday I just wanted to sleep. I had the dry heaves, and a bit of a chill so I cancelled the plan to drive to Port Aransas and got back under the covers. I guess the stress of the weather the past days had taken its toll. Cody was also happy to just lie around, so we spent most of the morning in and out of bed.
After noon I called Marika, cried a little bit then took a shower and ate some saltines. I was beginning to feel better. It was too muggy to spend much time outside, but in the late afternoon I got together with some friends of a FaceBook friend. We went to dinner and talked about books and travel and had a delightful time.
Cody and I played ball in the campsite and I caught up with Facebook and email, then plugged in my mapping information for the next day's drive.
On Monday Cody and I drove from Rockport to Galveston Island, an easy 172 miles that included a stop in Blessing, TX. Cody and I walked around the small grassy park of the Blessing Community Center, thinking of all the friends who asked me to say a blessing for them, and saying such big thank you's for so many blessings so far.
Blessings for safe weather. And great camp neighbors. And new friends. And two kinds of OFF Deep Woods. And air conditioning. And postcard-making supplies. And bird songs. And easy driving miles. And gas no higher than $2.29/gal. And a level camp site that didn't flood. And the best camping dog. And the love and support of so many people, known and not, who hold me in their hearts.