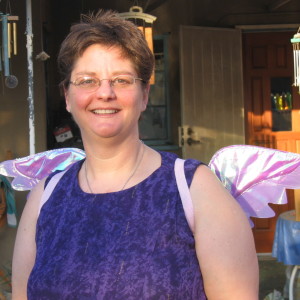 I have a picture of me standing in the late afternoon sun in Marika's backyard. The light is perfect on my face, illuminating me like a spotlight and I am smiling from the inside.
I remember that day. That moment. Feeling so content and joyous and happy for everything in my life. It was in May of 2006, almost two years after I had moved out of Marika's house.
Earlier in the morning she and I had gone to Goodwill. We were trying to work through the anger and do more fun things together instead of just sitting across from each other in a restaurant, sharing a meal, hardly talking.
We still liked to go yard sale-ing and thrifting for odd trinkets, bird feeders, potential art supplies. That day at Goodwill I found a pair of wings. They were pink and lacy, with a two-foot wingspan, obviously intended for a child. But they had adjustable straps.
Instead of making fun of them, Marika helped me loosen the straps, slip my arms through the loops, and adjust the wings onto my shoulders. And they fit. There was even a motor with a switch to make the wings flap.
A five year old girl watched us with fascination as I stood there, all smiling, my wings slowly raising, and lowering. And then they stopped on their way back to the up position.
"It probably just needs new batteries," Marika said. "Flapping or not," I said, "they fit and I had to have them." And they were only $2.00.
That afternoon I came back to Marika's so she could take my picture. I was all dressed up, literally, for a dear friend's surprise party. I was wearing a dress. And earrings, and even a little Bare Essentials makeup. And my wings.
I didn't wear the wings to the party. In fact, I don't think I ever wore them outside of the house. But I did put them on sometimes when I danced around my studio. Most of the time the wings were displayed on the shoulders of my headless, black art deco mannequin, Odetta, who stood near the front door, welcoming guests.
Those wings. My smile. The light in my face. I see the energy of my whole being in that photograph. And when I remember how full and alive and complete I felt in that moment, I realize I can feel it again.
And just thinking about it, I actually DO begin to feel lighter.
Someone once told me that the Universe understands images more than language. That you should cut out pictures of what you want or that exude how you want to feel, because it can help manifest it.
This picture of me is all of that. And more. And so I have taped copies of that photograph where I can see it everyday: on my bathroom mirror,  on my vision board, it's even my current profile picture on Facebook.
Because the me in this picture is heart-wide open to the future. And that's how I want to feel again.
Do you have a photograph of you that captures the essence of you?
Find it.
Put it where you can see it, to remind you that it is still you and you can feel that way again.