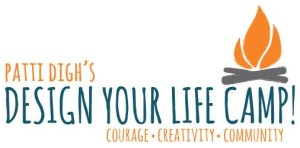 I never went to sleepover camp as a kid. The idea of being away from home and sharing a cabin with strangers was the furthest thing from my idea of fun. But when Patti Digh announced her Design Your Life Camp, complete with inspiring speakers, art-making and a talent show, I leaped at the opportunity.
Some of my favorite teachers and writers will be offering workshops and there's even a full-day writing course the day before camp begins. This is a real gift to myself to indulge in so much creative fun. And I'll finally get to meet many friends I've connected with on Facebook and spend time with other friends who I haven't seen in a few years.
As if that all wasn't enough.
Patti also invited campers to submit proposals to be a speaker on the topic of courage, and also to lead creative art sessions.
Of course I submitted proposals for both.
And both of my proposals were selected!
Can I tell you how excited I am?
One of my next big dreams is to speak to groups, encouraging folks to claim their own dreams and offering tangible, do-able action steps to make it happen.
My seven minute motivational camp presentation is entitled, "The Courage to Give Up a Good Life for a Great Life," and it is the story of how I manifested my own dream to leave my life in Arizona to live and work at the ocean. During the speech I offer folks inspirations and strategies for beginning their own journey towards that thing that makes their whole being light up.
And my creative session is a direct follow-up to this speech, giving campers an opportunity to take action and make their own travel-size dream altar so that they have a touchstone to keep them focused on their dream.
Even though camp isn't until Oct 2, I've got a lot of work to do before then. I have a speech to write and slides to create. (They're going to be mostly beautiful pictures of the ocean and the beach.)
And I've got to get my art supplies to Atlanta so I don't have to carry them on the plane with me.
I'm sure my excitement and my big WHY will keep me energized and working and I'll be ready in no time.
And hey, if you want to join me at camp, there are still spaces left. Check out the website for all of the details.