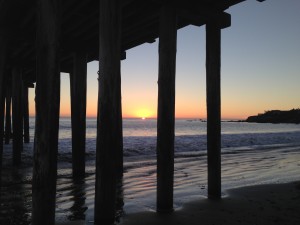 I am back in California and I am so grateful for this freedom that I have created for myself to be able to move between places and appreciate the joys of each of them.
As I drove back with the strong intention of focusing these next three months on writing my book, I realized that I have long dreamed of spending a winter at the beach and writing. For years I thought it would be in Cape Cod. I even had a friend who invited me to stay in her cottage in Wellfleet and I would just have to pay for the heat. But winter can be brutally cold there and most of the stores and restaurants close for the season. And there are no fresh fruits and vegetables in the winter.
But here, in Paradise Park, there is a lovely balance of solitude and community. It is my perfect sweatshirt weather, and I have the time and space to walk and notice and write. And there are farmers markets all year round.
So I'm taking my time to re-acclimate, settle in and WRITE!
Thank you again, so much, for sharing this journey with me!
I've been posting on Facebook and have copied some of them here as snapshots of my first week back. Enjoy!
I am home. With my other love, the ocean. Remembering why I am here and so feeling blessed that I can be. I'll be taking the next few days to re-acclimate, unpack and settle in.
I'm in a new spot in Paradise Park. I was surprised at first, but now glad because I'm not so obviously reminded of my life with Laddy when I was here before.  
Of course I think about him and miss him, but there is less sadness and loss and more about simply noticing his absence and remembering what a great dog he was and how much I loved him.
My new spot is on the back row, facing the trailers in storage and Horse Hill. When I move my chair to the edge of the grass, I have a spectacular view of the ocean. I walked on the beach (ahhhhh), and for a long time I was the only one around.
I said hello to people and dogs and watched the sun go down, then I took myself to Duckie's for Caesar salad with fried fish on it. YUM! And enough for lunch tomorrow. Welcome Home…
heater and hat are on. enjoying hot ginger tea and an oatmeal raisin cookie, deciding what to do next….
It is a cold, cold morning here at Paradise Park. Turned the space heater on at 4:30 but didn't get out of bed until 7:45. Now the water heater is readying for my shower and I need to clean the coffee machine after this first horrid morning cup. But I am HERE and a morning beach walk is definitely on the horizon. Happy Friday, y'all!
Great morning beach walk. I could have been wearing shorts, even though the folks I passed were bundled in hoodies and sweatpants. Clear, crisp air, low rolling waves, fast-romping dogs….then visited with the park owner in the office, catching up on the news. now home with a list of possibilities for the day.
The sun is lower than Horse Hill. Time for an evening stroll. First I have to change clothes again, back to long sleeves and a sweatshirt. I am re-learning the weather here.
Happy weekend. It's been windy here all night which means the RV has been rocking all night. Once I knew it wasn't an earthquake, I was fine with it. Now enjoying coffee from a cleaned pot. So much better.
Sitting at the dinette with my lunch and I just noticed a peekaboo view of the ocean between the eucalyptus trees. Wow!
Eyes closed: Salty sour sea air, rolling waves, the clack clack of a skateboard in the parking lot.  
I met a white lab on the beach, Bodie, and he dropped his tennis ball for me. We played many rounds of kick the ball, and the whole time I was thanking Mabel for all of the practice.
It would be very easy to just turn the heat on, enjoy some hot tea and tv and tuck in for the night. But I am choosing instead, to bundle up and walk down the hill into town for tonight's annual Christmas event. There will be carolers, and cookies and refreshments and cider and wine tasting and even free carriage rides. I can see the lights of the cars arriving… so off I go….
It was a fun outing. Talked with a young couple from Australia traveling the west in a rented RV, saw some of my neighbors, and spent a good amount of time talking with the woman who owns Happy Go Smile, who lost her job and ended up opening this fun and successful shop. And I brought home a handful of sweet treat samples: a mini pumpkin pie, peppermint gelato! three different cookies. Now I can enjoy that hot cup of tea with TV. And slippers.
https://www.facebook.com/HappyGoBarb
I read the flyer for the yoga class. Twice. I swore it was going to be a restorative class, a lovely re-entry for my body back on my mat. But it was a flow class. My first ever. I modified to my abilities and kept up pretty well until those last 15 minutes before Shavasana – man – I was tired… And so I honored my body and slowed down. Now that I'm home and resting, I'm so proud of myself!
This afternoon I walked down to the beach and just sat on a big flat rock, noticing. My neighbor makes his dog Lola sit each time before he tosses her ball into the waves. Dachshunds don't run like big dogs–it's more like they rock their weight from their front legs to their back legs in a forward motion. The sky was filled with pink and blue like baby shower colors.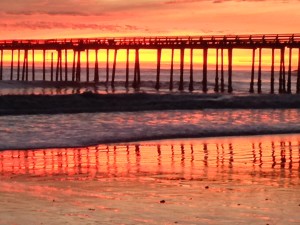 Winter sunsets at the beach are living paintings that fill the entire sky. Last night everyone was out with their cameras, walking a few feet, then stopping to shoot a new composition.
The RV is washed, propane filled. I'll do the windows later. I checked out the "more desirable" spot available around the corner. The view wasn't that much nicer, it was in a big social hub and the space was on too much of an incline for easy leveling.
So I am happy to be back in #59 across from the trailer storage and Horse Hill where it is level and quiet and I can see the town and Morro Rock and a peek-a-boo of the ocean. I am so grateful that I had the choice!
Are you on Facebook? If we're not already connected, please friend me!