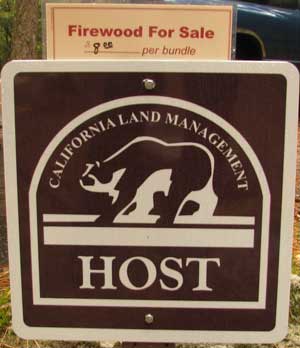 Being a camp host has been on my Bucket List for as many years as I've been RV camping. The idea of staying in the same campground for a three month stint, greeting campers, talking with people from all over the world, putting in 20 hours a week in exchange for free rent and full hookups was a dream for me. And the bonus of driving around the campground in a golf cart took the dream over the edge.
And so, in January I thought hey, this would be a perfect time in my life to apply for a host position for the summer. I perused the listings on the California State Parks website and narrowed my choices to two parks, one just 20 miles north of Cayucos at San Simeon State Beach, and the other, three hours south at McGrath State Beach in Ventura where I've camped many times.
I met a Park Ranger when I was volunteering at the Morro Bay Bird Festival and asked if she would put in a good word for me with the selection committee at San Simeon. She told me to send her my application and she'd forward it to the person in charge. Meanwhile, I drove up to the campground to scope out the area.
Dogs weren't allowed on any of the trails. And it would be a 40 mile round trip into Morro Bay if I wanted to continue with my yoga classes, go to a big supermarket, do laundry. And because the campground is under a canopy of trees, cell phone reception was non-existent.
When the ranger contacted me about my application I asked about the reception and wifi and he said camp hosts get free wifi, but still, there was no phone reception. So I said no thank you and focused my attention on the park in Ventura.
A ranger from Ventura called and told me that the person who does the hiring would be on vacation until March, but they had my application. So I put a prayer up and let it go. Two weeks later I got a call. If I could start in April, I could be one of the three hosts at McGrath. But April was too soon. I have some commitments in Morro Bay in April and May and it's for the months of July and August that I need to leave the RV Park in Cayucos to make room for folks who have previous reservations..
She suggested a second option-being the camp host at the day use beach, San Beunaventura State Beach, also in Ventura. My job would be to work either the morning or afternoon shift in the kiosk, collecting parking fees and answering questions. The park closes at dusk, so I'd have my evenings free.
I asked about security and safety and other hosts nearby. It all sounded great. Until I realized that much of my life would be on hold. I'd have to arrange my Mac training and writing around my shifting work hours. I wouldn't be socializing with campers. I'd merely be an information person in a booth for five hours a day.
As much as the dream of camp hosting lures me, now just isn't the right time for it. Because what I really want right now is to continue creating my life in Cayucos, to build on the friendships I'm forming, to practice yoga with my new community, to lead more workshops and connect with more peeps. What I really want is to settle in.
And so I wrote to the Ventura ranger and said no thank you. And I made a reservation for July and August at the same RV Park that I stayed in when I first came to Morro Bay last August. Yes, it's more expensive than free rent, but I will be in town where I can continue to put down roots, make connections and do my work without having to plan my life around someone else's schedule.
The decision feels right. And of course, I laugh at myself for all of the planning and effort I put into making the hosting position work out. But that's how I seem to do things-I research, act, push and get so close to making a choice, and then I breathe and let go, realizing the universe has a better plan for me.
I'm sure that someday I will be a camp host, and the location will be ideal and the job will involve my people person skills and I'll even get to drive that golf cart around the campground. But for now, I'm staying on the Central Coast, creating the life I love to live.
What dreams are on your Bucket List that you've put on hold? Please share with me and my readers by clicking on the Comments below.