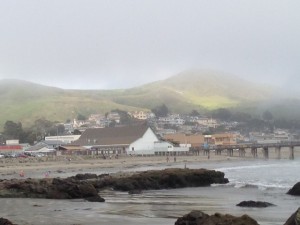 I've been home for just a couple of days and I'm still adjusting to being here. It's like coming back from any vacation: I need to re-ground, re-group and remember what's important and why I'm here.
A part of me thinks I should rush back into things and focus on work. But my wiser self says to move slowly, to pay attention to my breath, to reconnect with the rhythm of the tides. And to notice the things around me and and the feelings within me.
The landscape has changed in the month that I was gone. The rolling hills are now covered in golf course green and the bright yellows and oranges and lavenders of wildflowers gather across the hills like giant throw rugs. Low tide seems lower and the sun comes up further from the east, causing less glare during my morning writing. The whole coast is blooming with color and life and once again, I can't believe that this is my home.
Inside, I feel a bit of loneliness. Not surprising since I got pretty used to the comforts of sharing space with Marika and Mabel, and the opportunities to be social with friends and clients.
Coming home, I am reminded that this is important to me and that meeting people needs to be a daily practice, even if it's just having a short conversation with a fellow beach walker or the cashier at Spencer's.
If life is a spiral then this coming home is the same, yet different than all of the other times. And so I settle in, quietly, slowly, returning to the basics: breathing, being, and saying thank you.