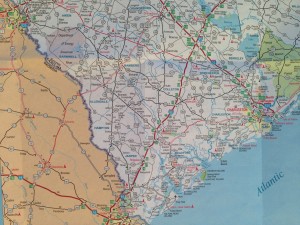 Marika and I had a great vacation exploring Georgia and South Carolina. The pace is slow, the trees are tall and the people really are friendly, y'all. Here is my travel journal from our trip:
Sunday:
A dear friend gave me a ride from camp to our rental condo in downtown Atlanta, where I dropped off my luggage, then took the MARTA train to the airport to surprise Marika. What a delight to see her smiling face when I met her at the baggage claim so that she wouldn't have to pick up the rental car alone.
The condo was on the third floor of a twenty four story building, just a few short blocks to the aquarium. It started to drizzle as we made our way to the closest restaurant for dinner. We walked home in a downpour of warm, wet rain.
Monday: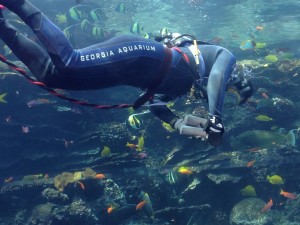 We spent the entire day at the Georgia Aquarium. We got there just as they opened on a relatively un-busy day so it was easy to see everything. Our favorites were the Beluga Whales, the dragon seahorses from Asia that look just like their name, the vivid rainbow of colors in the tropical coral reefs while divers squirted food from plastic condiment bottles.
In the Ocean Voyager exhibit, we walked though the famous glass tunnel, where fish swam above and around us as we glided on a moving walkway into the room with the 15-foot tall windows of the world's largest aquarium tank. We learned that the whale shark is really a fish, the largest fish, growing up to 32 feet. I was mesmerized by the giant manta rays that somersaulted through the diver's bubbles. Marika's favorite was the spotted eagle ray, with a beak-like mouth, that flapped through the water like a flying bird.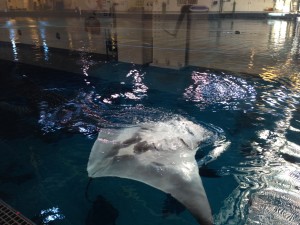 In the past I would have been bored and antsy halfway through the day, and so the biggest joy for me was seeing how I've grown, embracing the present moment 98% of the time.
After we had seen EVERYTHING, I asked Marika if there was something she wanted to see again. She chose the Beluga Whales and we saw the same tour guide for the third time, chatted more with her, then talked with another woman who happened to be in charge of guest programming, who took us on an impromptu behind the scenes tour of the Ocean Voyager tank. WOW!!! It looked exactly like the tour guide had described-the length of a football field without the end zones. What she hadn't told us, was that the sides are not straight, but hourglass shaped, to give the fish more exercise and mental stimulation.
Our behind the scenes guide explained that, when they were designing the aquarium, the team visited aquariums around the world, asking what worked, what would they change, and then incorporated all of the information as they built the Georgia Aquarium.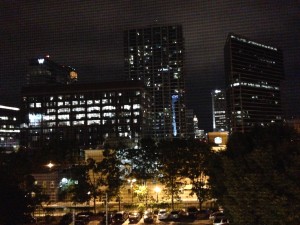 On our walk back to our condo, we picked up Chinese food to go, and ate dinner on our screened in balcony as the sun went down and the city lit up.
Tuesday:
We spent several hours exploring the Oakland Cemetery in Atlanta as our history tour of the city. Headstones dated back to the early 1800's. We downloaded an audio tour of the African American section and walked on cobblestones under giant magnolia trees, through designated Jewish and Civil War sections, many epitaphs so old they were unreadable.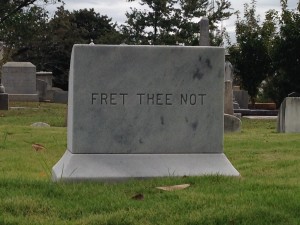 We had our late lunch/early dinner at Six Feet Under, a pub and fishery across the street from the cemetery: fried catfish, hush puppies, coleslaw and corn for me, fried oysters and hush puppies with a dinner salad for Marika. So good and so much food that I took half home!
Wednesday, a traveling day:
The highways in the south are tall-tree lined, two lanes going in both directions with minimal signage. Taller than the trees billboards appear on the westbound side of the road when we approach larger towns.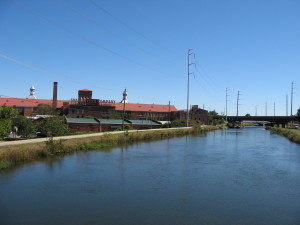 Our original plan for the day was to drive the three hours directly to our motel in Bishopville, South Carolina and visit Pearl Fryar's Topiary Gardens. But Marika found a fabulous Civil War history boat tour along the Augusta Canal. She said, "So what if we got to our hotel in the dark?" I cried with surprise at my flexibility. And it was amazing! We even went to The Phinizy Swamp Nature Area to walk and bird.
And when Bob, our GPS, led us to the Bishopville Landfill instead of the EconoLodge, we both laughed in the dark, then called the motel for better directions.
As we drove, we listened to k.d. lang, Phoebe Snow and Joni Mitchell and I shared stories from camp, about cupcake Laurie, Canada crush Barbara and zip-lining Lisa–the adjectives helped Marika keep everyone clear in her head. It was like reliving the weekend in technicolor.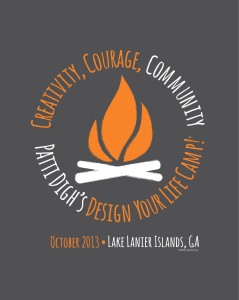 On the surface, camp was about speakers and poets and writing. But deeper, there were lots of soft edges where vulnerability offered opportunities to say "Yes, and" instead of "Yes, but."
I showed up so clear that I was there to be present, open, with no expectations. I took very few photos. I didn't rush back to my room to hibernate. I didn't even bring extra business cards. And I loved observing how I kept saying yes.
Even when I said no, I was saying yes to something else. And most deeply important to me, the people I connected with I REALLY connected with. For the first time at a large event, it wasn't about filling a punch card to meet as many people as possible, but really seeing and hearing and discovering something about the people I did meet.
I gave my first personal story speech to a hundred and fifty compassionate listeners and I loved the experience so much that I am sure this is part of my new work.
Thursday:
It was another full day, doing more than we had originally planned. We had breakfast at the famous Waffle House across from the EconoLodge and met the Fryars.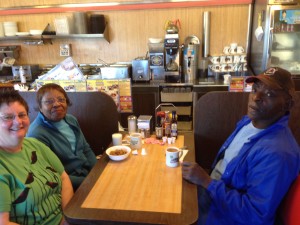 Ever since I watched the documentary "A Man Named Pearl," I have dreamed of visiting his gardens. No one taught him how to bend trees, to turn a round tree into a square, to carve bushes into sailing ships. For 40 years he worked at a canning company, first in New York and then he was transferred to Bishopville, South Carolina to help open up a new factory. He received the same salary and so, with the extra money, he cleared a corn field, built a house and started experimenting with throwaway plants and trees.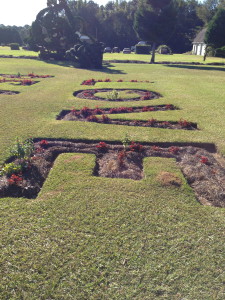 Pearl Fryar's garden now has over 300 plants, trees and shrubs, and people from all over the world come to visit. And planted in the middle of many of his green sculptures are fountains and artwork made from recycled gears and wrought iron and discarded household objects.
As we walked through the expansive lawns, he rode up on his John Deere tractor, recognized us from breakfast and talked about his biggest passion: education. "Success takes work, passion and marketing" he said.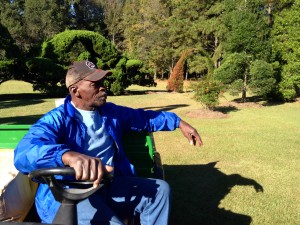 He tours the country, speaking to students of all ages, encouraging them to get an education, a trade. He thinks high schools should add on two more years, so that kids leave school with a trade, a vocation. And he has created a scholarship fund so that low-income kids can go to community college.
After the gardens, we visited The Button King's Museum. Housed in an aluminum semi-circle of a storage building, the museum is a collection of cars, clothing and musical instruments, all covered in buttons. Dalton Stevens, aka The Button King, is now in his 80's but he took up the hobby forty years ago because he had insomnia and didn't want to make noise and disturb his wife's sleep.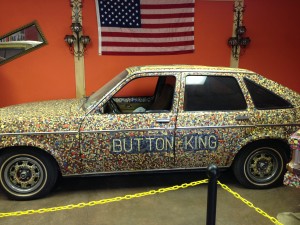 We followed another South Carolina back road to The Broom Place, so named because it was easy for the owner to spell. Susan Simpson has been hand making brooms and whisks out of broom corn for more than 45 years.
Her workspace is in a building built in the 1770's. There is a small back room where she stores her supplies and a large front room, about 40' x 15', where she stands in front of an ancient broom tying machine that she bought from an elderly man in Asheville, NC. He promised to teach her how to use the equipment when she bought it, but she ended up teaching herself. She studied different brooms, how the thin strands of broom corn attach to the wooden handle, then learned how the old pulley system held the wire taut so she could wrap the strands.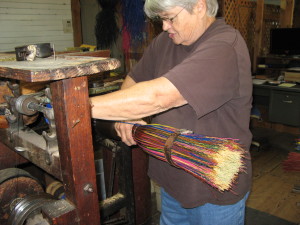 Susan is in her 70's, stocky, strong, dressed in a t-shirt, jeans and brown boat loafers. Her silver gray hair is short, with bangs. Marika asked if her feet hurt from standing all day and she said "No, not at all, I've been doing it for more than 40 years." She speaks with a slow, melodic Southern drawl, like an invitation to sit a while on a muggy summer day.
I asked her if she has an apprentice to learn the art and she said, "I had a woman write me to say she was interested in learning. I wrote to her but I never did hear back. She's five years older than me, so who knows if she's even alive anymore."
When I asked about hiring someone to help with the business she said that OSHA won't let her hire anyone because she might be tempted to teach them about the machines and they were not up to any kind of code, being so old and all.
The shop is open six days a week but she has no brooms in the store to sell. They are all custom-orders, backlogged about a year. And they are so inexpensive considering the time and quality and hand laboring, that Marika and I both dropped our jaws at the $20-$60. prices. Still, she makes about 3500 brooms a year and is happy.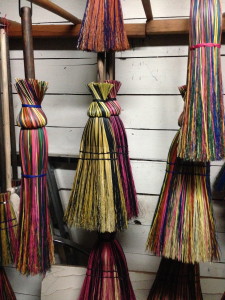 As if the whole broom making process wasn't interesting enough, she also told stories about the Boykins, the family she rents the space from and who the town is named after. She said they'd had plantations on the land since the 1700's and that they were all related to each other. I asked how old the last married cousins were, expecting her to say "in their sixties," but she said, "They're in their thirties, now. Two sons and a daughter. And they're all a little slow, but I guess that's what happens."
We talked about stray cats and how her husband, 6'5" and 260 pounds, once unknowingly laid in bed, on top of their miniature dachshund and the dog slept through the whole thing. She told us about the famous last Civil War battle in town where they killed the last Union commander, and how the movie "Glory" moved the battle to Charleston because it was more glamorous.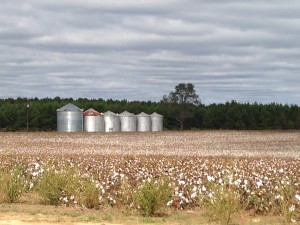 We left Boykin and drove along the thinnest black line on the South Carolina map, past soybean fields and blooming cotton and tall stalks of dried corn. We stopped for dinner at the Summerton Diner and had not very good Southern food, one meat and three sides. We got gas in a small town with a single block Main Street and a train depot before reaching I-95, the highway that connects Florida to New York City.
We made our way through Savannah's five o'clock traffic, over the bridges and finally arrived at Fiddler's Creek, our rental cottage for the next five days on Tybee Island. Before we even checked the rooms in the house, we walked out onto the covered dock that reaches into the tall grasses of the salt marsh.
It was low tide and the reedy grasses were as high as half a person. The setting sunlight tipped the trees in gold as a wave of cicadas screamed their evening rhapsody, sharp and steady, like a car alarm, getting louder as they landed in the surrounding trees. We had Vicks VapoRub on to ward off the mosquitos but it wasn't working.
Friday: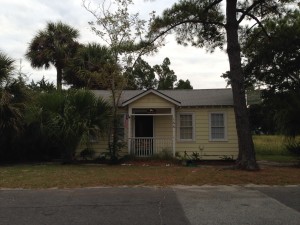 Our one bedroom cottage was built in the 1930's and the wood floors now slope at a very noticeable angle toward the marsh. The rooms are large with lots of windows but we spend most of our time on the screened porch out back just a few feet from the marsh. There is also a covered dock with a ten foot long farm table and several chairs and chaise lounges, but there are also sand gnats and other biting bugs.
We slept in and now it is after eight, and the sun is already above the trees across the marsh. Marika is out on the dock with her coffee and binoculars, scanning the reeds and the trees to find the source of the chittering. I am having my coffee on the screened porch where the gnats can't bite me. The neighbor kitty, who I have named Chuckles, is enjoying a Marika-scratching.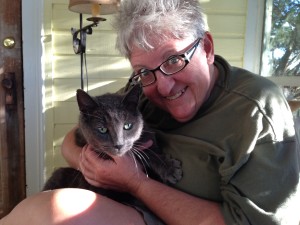 We're both moving slower than we have all week, but we still have a day of adventures: touring the Tybee Light Station, finding the beach and making plans for a private birding/dolphin boat tour, all while avoiding as much of the weekend Pirate Festival as possible.
It is now mid-afternoon and the tide has come in, the water is at least three feet higher than this morning. A motored boat is winding its way through the tall salt marsh grasses toward the open ocean.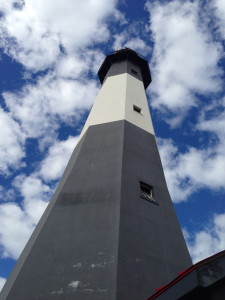 We climbed the 178 steps of the Tybee Light Station and took panorama photos of the ocean, the channels and the Savannah River. I enjoyed the Tybee Museum too, especially the photos of summering folks in the 30's, the exhibit of Girl Scout stuff and an orange amusement park helicopter ride that brought me right back to Happyland from my childhood.
After our Light Station touring and a delicious lunch at the Sundae Cafe, we stopped at the local IGA and now have real bug spray so we can sit out on the dock and enjoy the rest of this sweet afternoon.
Sunset on the dock: dragonflies, warblers, clicking crabs, water-spouting oysters, kingfisher, great egret, green heron, gulls, a flying duck, jumping fish and cicadas that are not nearly as loud as last night–they must have been welcoming us!
Saturday:
Marika left before the sun came up, headed to the beach to bird. But she set up the coffee for me, sweet thing. It is quiet on the salt marsh, the sun is just now rising over the trees, crows are announcing the day. Chuckles, the short haired gray neighbor cat, meowed until I opened the back porch screen door and is now standing at the back door, waiting to be let in.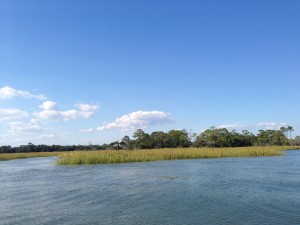 It was a relaxing morning, with an early lunch at AJ's Dockside where we watched a family of four load into a sit-on-top kayak and paddle into the bright sun. It is too warm and sunny for this gal to kayak so instead, we took a three hour private boat tour around Little Tybee Island, just the two of us with our guide, René, and Bennett, our skipper.
We breezed along the waterways that cut through the tall marsh grass, sometimes going as fast as 35 mph, sometimes with the motor off, just watching and listening.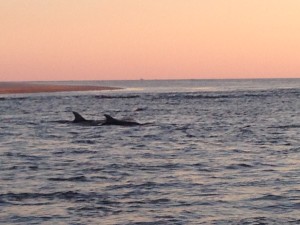 We saw so many birds: brown pelicans, kingfishers, several kinds of terns, cormorants, all kinds of shorebirds, greater egrets, lesser egrets, great blue herons, green herons, black capped night herons, even a group of WOOD STORKS!!! ( a first for us!), clapper rails–often heard, rarely seen!!, bald eagles, osprey, and an alligator!
And we saw DOLPHINS, up close, hugging the edges of the grass as they fed, then diving and resurfacing with their sleek and easy rolling motions right in front of our boat!
It was amazing to be out on the water, moving between the the tall grass, no sounds except birds flapping and dolphins breathing through blowholes! WOW! WOW! WOW!!!!
We ate dinner at the cottage on the screened porch: big salads with hard boiled eggs and tuna. Chuckles the cat, came by and enjoyed some tuna with us.
Sunday morning: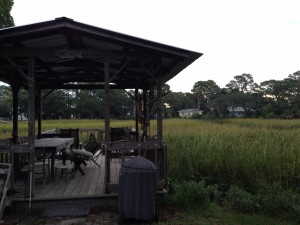 It's overcast and a bit muggy but there is a slight breeze. Marika is off birding again, I am on the dock, listening to the fast- flapping of great egrets over the marsh grass and popping shellfish and squirting oysters in the low tide mud. Two-inch long fiddler crabs crawl across the weathered plank floor and Chuckles has arrived, hoping for a second helping of tuna.
Vacationing keeps us so busy and in some ways, removed from "real life." This morning I had a flash of, "When I go home to Cayucos, I will feel Laddy's absence all through me" and I cried….
I rented a bike this morning. It was my first time on a beach cruiser and my belly didn't get in the way! I rode the bike trail, past houses, down to the lighthouse, through the park, and stopped at a garage sale. I was glad I had a basket for my fab purchase: a Royal manual typewriter, inspired by Maya Rachel Stein's Type Rider Project and her writing workshop at camp.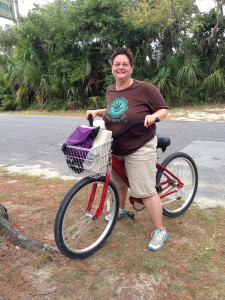 In the workshop, she handed out 4×6 index cards. By keeping the page small, she suggested, you can jot down four simple memories, or only write enough to fill one side of the card. And then you can read it and mine for something you might want to write a piece about.
This idea of writing in such a small container excited me. It's not intimating, it's not about a finished product, it's more about honing the craft. This idea of small and simple appealed to my writer's heart.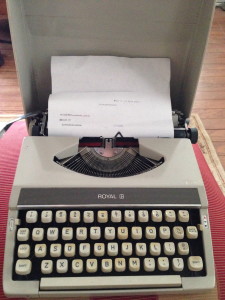 And so today, on my bike ride, when I saw this small portable typewriter for sale, WITH a typing course book for only $30.00, I knew I wanted to take it home. With all of the blogging and Mac newsletters I write, I feel I have no space for  creative writing. But with index cards and this new medium, I'm excited to play with words and see what appears.
We are sitting on the dock under an overcast sky. Three kayakers paddle into the channel with the rising afternoon tide. Marika is scanning the grass and trees, the only sounds are the chirps and cicadas and the click clack of the typewriter keys. I smile every time the bell rings when I get to the end of the line.
Monday: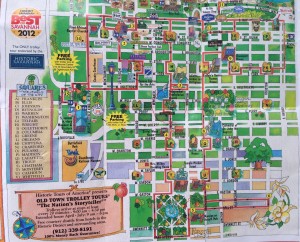 Our low tide shorebird boating tour with the Georgia Ornithological Society was cancelled this morning due to a high wind advisory. So instead, we drove into Savannah and enjoyed the Historic Trolley Tour, through the historic section, past Victorian homes, around several park squares and along the original cobblestone road that led down to the Savannah River.
We learned lots of interesting facts:
• the original Georgia colony had four prohibitions: practicing Catholicism (because they were afraid people would be sympathetic with the Spanish invaders), alcohol, slavery and lawyers
• they rated cotton on a scale from fair to middlin'
• the large trees are called live oaks because they don't lose their leaves and the Spanish moss hanging from them is an air plant that the original settlers tried to use as pillow stuffings but discovered they are home to chiggers
• the Historic Savannah Foundation was started by seven women in 1955 and is responsible for saving, preserving and restoring most of the homes and buildings in the city. They even rent out many of the homes to generate funding to continue their restorations.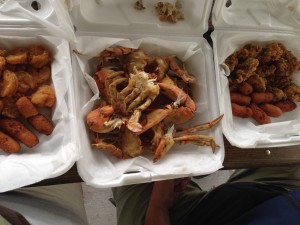 On the way back to Tybee Island, we stopped at the Seafoodelicious Fish Market for some local, fried-to-order shrimp, oysters and crab, with hush puppies. We enjoyed our feast at a nearby park and watched fallen brown leaves skitter in the cool breeze.
We are back at the cottage, our last afternoon here. The sky is a weathery gray and it is wonderfully cool, almost chilly enough for a sweatshirt, but not quite. The grasses are blowing, the tide is rising and the birds are chirping and scrawking. Marika is drinking a cup of coffee, binoculars at the ready, hoping to catch a last look at the palm warbler, the small bird with a yellow rump, white eyebrow and drab body that has been perching on the tops of the grasses all week long.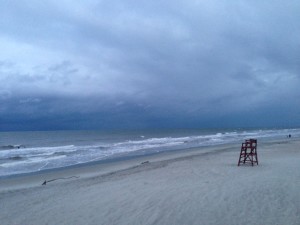 We took a sunset walk on the beach tonight. The sky was full of clouds and if there were colors, we didn't see them since the sun sets on the other side of the island. The sand was soft and fine, like baby powder. As we reached the water line, the ground turned hard and dense, so dense that I barely made a mark when I dragged my shoe across it.
We walked the length of the pier as the light faded and we stood at the end and watched groups of brown pelicans skim across the dark water, flying north. Low waves rolled and it was breezy but warm, and there was no moisture on my arms or glasses like when I am at the beach at home.
Tuesday:
It's our last morning on Tybee Island..high tide, grasses blowing, clouds rolling, birds singing. We'd love to stay longer but we're looking forward to Mabel kisses later this evening! It's been an amazing ten days of fun and discovery and I'm so glad you joined us on the journey!