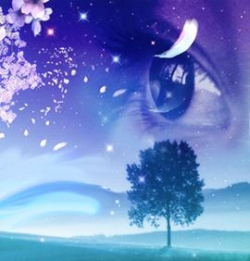 We all have dreams. The cryptic ones that come to us at night. The ones we've been imagining since we were children. And the ones that appear when we are in deep connection with our hearts.
The thing is, if we keep them to ourselves, our dreams cannot manifest into reality.
When you have a strange sleeping dream, doesn't it become clearer when you tell someone about it? And don't you get all giddy when you talk about your childhood dreamings, even if they are too silly to really happen?
Sharing our dreams is the most powerful way to turn them into possibility. Giving voice to want we truly want gives the vision energy. Telling someone else alerts the Universe that we really mean it. Envisioning one detail at a time brings it closer to reality.
And hearing our own voice proclaim our deepest dreams brings us face to face with our own role in making it happen.
It is no longer a secret. And there is the power!
So, what is your dream vision for yourself this year?
• Write it down.
Not in your private journal. Draw it in big bold colors on a giant piece of paper and tape it on the wall in your bathroom where you'll see it everyday.
•Call a friend and share it, out loud, with them.
•Find an object that symbolizes this dream and carry it in your pocket.
• Share your dream here for others to read and support! Just click on Comments below.
Or join me for a Dream Altars workshop, where we will create beautiful objects of art and passion that will serve as a constant impetus to bring our dreams into reality.