The Morro Strand RV Park offers free wifi, but the signal goes out at least once a day, often for several hours at a time. This would be fine if I were on vacation and ready to unplug. But my business can only support me if I have reliable internet access.
So this morning I drove to the Verizon store in Los Osos, an easy five miles down the road, and purchased my own mifi hub. Now I can connect my iPhone, iPad and laptop and be assured that I will always have fast internet access.
It would have been so easy to just head back to the park and hang out in the motorhome, relaxing, watching the hubbub of activity of families and dogs, surfing the internet, even getting some work done.
But my intention for today was to get out, explore, maybe even take myself somewhere I haven't been before.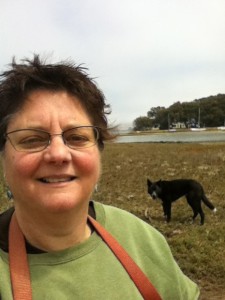 I parked on the dead end street at the back bay in Los Osos where the narrow sandy trail winds around the inlet. The tide was lowing and egrets and avocets and curlews waded at the water's edge. A cool breeze blew in from the water and I could see wisps of fog rolling across the bright green succulents. The air smelled sweet and fishy at the same time.
Instead of walking the trail around, Laddy and I played in the packed sand. He found a thick stick and I tossed it in the opposite direction than he expected, giving him more running room and less leaping opportunities to protect his back right knee. He wandered and sniffed the plants and the grasses while I did modified sun salutations facing the sand spit across the water.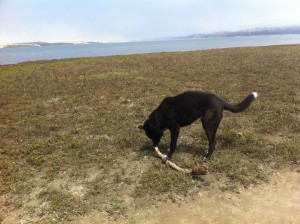 Back in the RV, I made lunch, a tuna sandwich on rye with a side salad of spicy lettuce and a most perfect tomato from Thursday's farmer's market. Laddy laid in front of the screen door, unphased by the cars that pulled in around us, both of us enjoying the breeze and the beautiful bay view.
As I sat in the familiar beauty of the back bay, I realized how challenging it is for me to venture beyond what I know. Back in Phoenix I used the heat as my excuse to not go out. But now I see it was just that, an excuse. An easy reason to not try something new, or go someplace I've never been.
Here, I could use the excuse of being in a vehicle that's too big to park but I am quick to see that it's just another limiting belief that is holding me in my comfort zone and keeping me from exploring what else there might be.
I knew that I'd be going to Costco since gas there was $3.89 compared to $4.29 at the stations in Morro Bay. But I'd even been to that Costco before, when I was here in April on my initial house hunting trip. And so I made a commitment to myself to find one new place to explore before pulling back into the RV Park.
The road to Costco is an easy eleven mile drive past farms and ranches and rolling hills, some green, some the color of dried wheat. I passed cyclers in the bike lanes and the Los Osos Oak Reserve where I remember exploring with Marika and our previous pair of dogs.
Then, just on the other side of the hills is San Luis Obispo, with its manicured apartment complexes and fancy script letters on the street signs. Costco is just one of a hundred big box stores in this major shopping zone, but it's a relatively easy in and out, even in a big rig. I filled the tank with $95.00 worth of regular gas and headed out of the mayhem of Saturday shoppers.
On the drive back to home base, the road crossed over a small body of water and I remembered my challenge to try something new. It was an easy left turn into Laguna Lake, a San Luis Obispo County Park.  We drove through several areas where folks were picnicking at the various ramadas and dogs were playing Frisbee off leash.
I pulled into a larger parking lot close to the water where a man and a young boy had their chairs and fishing equipment set up. A gathering of geese and mallards honked as we walked on the road that circled the lake.
Laddy was happy to smell the bushes and underbrush while I watched a hawk circle over the water. But it was warm and sunny and there was no breeze, so I shortened our walk and we headed back to the RV.
I stopped at China Dragon on the way back to camp to get dinner to go, but they didn't open until four. So I parked on the street in the back and we waited, Laddy napping, me writing and perusing the menu.
When I finally I pulled into the RV park, it was almost five o'clock. I was a little anxious about whether there'd be enough clearance for me to easily back in. After two back and forth attempts, new neighbor Richard guided me back. I plugged in, connected the cable, opened the windows and fed Laddy, then laid out my Chinese feast. It was delicious.