The motorhome is a 1989 Itasca Sundancer. Marika and I bought it from the original owners in 1994 when it had only 9400 miles on it. (Today the odometer reads 54,058.)
It's 24 feet long, 8 feet wide with a shower, toilet, sink, refrigerator, freezer, four burner stove and a microwave/convection oven. There's a full sized bed in the back and a dinette with two bench seats on either side that fold down into a single bed. And there's a swivel chair in addition to the two seats up front for the driver and the passenger.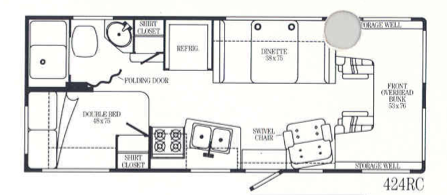 The RV originally had a fold-out queen sized bed over the driver's cab but we took it out years ago and put a five inch ledge around the U-shaped area with separators for extra storage. One side is designated as the food pantry with banker boxes holding cereal, canned goods, snacks and root vegetables.
The other side of the U has Laddy's dog bowl, toys, brush, laundry supplies and a small step ladder so that I can wash the center of the windshield. The wide middle section holds three full-sized laundry baskets, storage for extra toilet paper, paper towels as well as shoes and sweatshirts.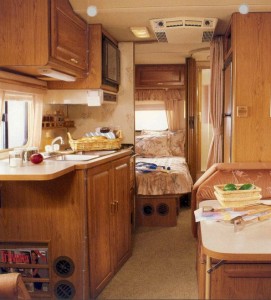 There are two overhead compartments in the bedroom area for clothing and extra blankets, as well as two lighted closets, about 14" x 36" for the rest of my clothing. The bathroom has a medicine cabinet over the sink and a second cabinet below for toiletries, a first aid kit and toilet paper.
There are two more compartments over the dinette filled with my office supplies and extra technology (batteries, Snowball microphone and external hard drive), a backgammon board and several decks of cards.
The kitchen has a double sink, a fold down counter extension and an overhead cabinet for coffee, tea, plates, bowls. Below are three drawers for silverware, plastic wrap, aluminum foil, cups, glasses and towels. There's also a drawer below the stovetop for pots, pans and miscellany.
The only clock is the digital one on the microwave. Larger and more relevant is the oversized tide clock on the wall behind the dinette.
The RV can hold 35 gallons of fresh water and the holding tanks can handle 35 gallons of used gray water and 35 gallons of black toilet water. So far, I'm averaging needing to dump the holding tanks every five days.
I've got my 13″ MacBook Pro for work and an older 17″ PowerBook G4 that is hooked up to a gadget called EyeTV and the cable system at the RV park so I can watch TV.
And when I'm not plugged into electricity at a park, I can run everything using an inverter and the house batteries, which are powered by solar panels. Everything except the air conditioner and microwave, but then, I can turn the generator on.
There's something very comforting about having everything I need and nothing else. I am completely self-contained and independent. Not just in my vehicle, but in my life. And that is mighty, mighty exciting!