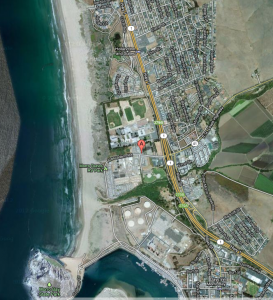 It is my second Monday on the road and already we have a regular morning routine. Laddy stands at the foot of my bed sometime between 6:15 and 6:45, awake and ready. I pet his happy head, do my morning hip stretches while I'm still lying flat, then get up and make my bed. He'll either jump onto the bed or return to his dog bed under the dinette while I go to the bathroom, brush my teeth and throw on some morning walk clothes.
With my phone, keys and a pooper bag in my back pocket, we head over to the nearby park for a short leg-stretching pooper walk. The grass is thick and green and damp and there are usually gulls and ravens on the softball field. We are usually the only ones there, though twice, I've seen city workers pull up in their trucks for their fifteen minute breaks.
Back in the RV, I feed Laddy, pour my own cereal and check my email while my single cup of coffee drips.
Beyond that, the routine ends. Some mornings I'll shower, others we'll take a second walk along the beach road or down across the sand to the water. Or I'll sit and write, or ready myself for a client call. Some days we drive over to Los Osos for a lunchtime bay walk. Other days I have been meeting new friends and trying a new local restaurant.
I am intentionally trying to go with the flow of energy and desire.
Every fourth or fifth day I dump and fill the tanks. On Mondays and Thursdays I go to one of the two nearby farmer's markets to replenish my pantry with fresh picked lettuce, tomatoes, strawberries and nectarines and whatever else looks delicious and ready to eat.
And in the afternoons, I may nap or write or watch an episode of Downton Abbey on Hulu Plus. And in between all of that, there is always another walk with Laddy, and then another before and after dinner.
This is everything I had envisioned for myself as I was packing up my Arizona life: to walk every day, and work and write and enjoy the cool, clean air.
But as much as I am enjoying all of this present moment beauty and joy, the do-er in me feels the pressure to hurry up and move on to the next phase, to rush to what's next. I hear a voice in my head that says I should start looking for a house to rent, connect with the local Apple store and work with new clients one on one and start living my next real life.
But then I realize that this IS my life. I've worked so hard for this, to be able to afford the luxury of being here, at the beach, on my own schedule, working some, writing every day.  And why should I give all this up for what I think I SHOULD be doing next?
And this is where my deep work is.
To stay right here, right now, to embrace what is, to stay present and appreciate this wonderful, simple life I have created, and not feel the need to be anywhere but here.