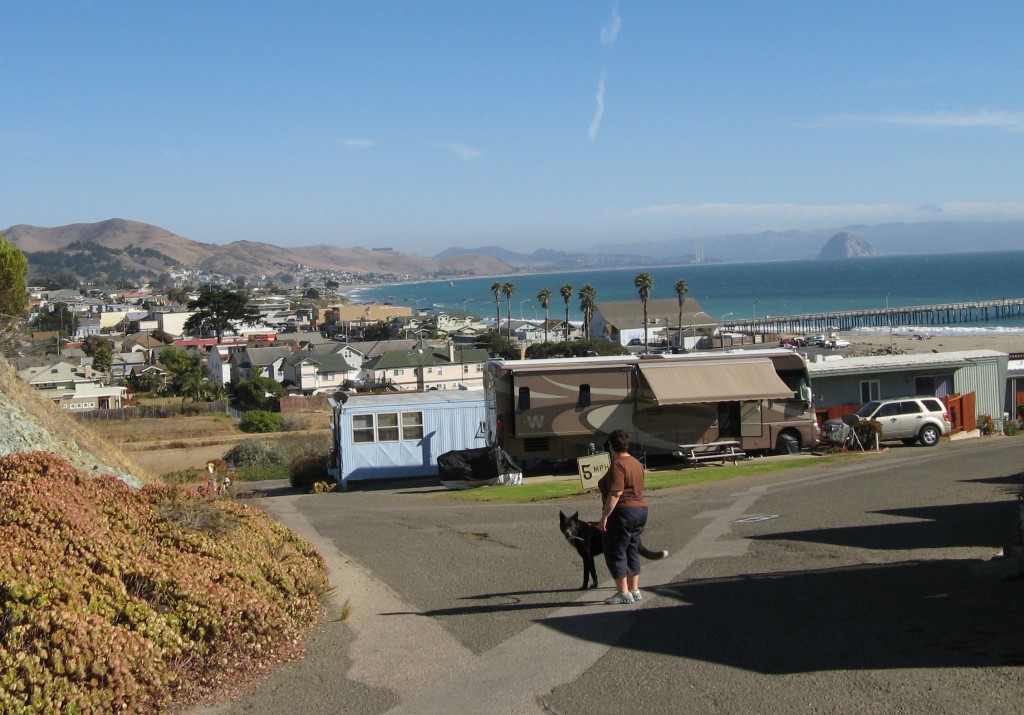 I've been living in the RV for more than three months now, and have been here at the Bella Vista Mobile Lodge since mid-September. I am settling in. I wave to my neighbors and engage in conversations about the weather. The woman in the bakery section of Spencer's Market and I are on a first name basis. And Mark, my neighbor across the street, even helped me when my new mattress arrived. I am calling this place home.
In some ways it is exactly what I imagined—clean air, cool breezes and much less stress. But in other ways it is nothing like my dreams. I don't live in a house with a yard and a laundry room. I am not going to clients' homes every day. I'm not even trying to build up a local Mac training clientele.
The other day as I was walking with Laddy, I noticed that one of the mobile homes is for rent. I peeked through the windows, looked around at the outdoor patio space and thought maybe a little more space might be nice. But when I put the numbers down on paper, I realized I wouldn't be getting much more square footage, but I'd be paying almost twice as much. But what I would be getting is a permanent address.
Right now, I'm living here month to month. As we get closer to the holidays, I may need to move out of my space to accommodate people who have long-standing reservations. It's not really an issue, since I have solar panels and can easily live without being plugged in and hooked up, as long as I can dump my tanks every five or six days.
But psychologically, it can sometimes be a challenge for me.
I thrive on schedules, plans and control. Living here, I've had to be flexible and loose, not knowing beyond the current month, whether or not I'd have a space to call home.
So far, I'm doing really well with it, embracing it, even, and seeing how living month to month really keeps me living in the present moment.
But when I think about long term, I get a little unsettled, because there is no guarantee that I'll still be in space #50. And so I grasp at ways to have control. Certainty. Stability. And I think about renting that mobile home.
But as soon as I realize that it is fear that is fueling the idea, I'm able to let it go and breathe back into This. Here. Now.
I assure myself that I will never not have a place to park – I may just have to spend a few nights in the overflow area. I remind myself that being open and flexible actually feels fun. I realize that leaning into not knowing is not just about WHERE I am living, but about HOW I'm living.
This living month to month is a real gift. It's an opportunity for me to embrace my freedom and flexibility and learn this new way of being in all aspects of my life. And I'm liking it. A lot. How could I not, when the view from here is so beautiful.
How do you balance the not knowing with the need to know? I'd love to hear your stories. Please click on the Comments below to share. 
Did you enjoy this post? You can receive the Heart Sparks newsletter in your inbox every week. Just sign up on the right.