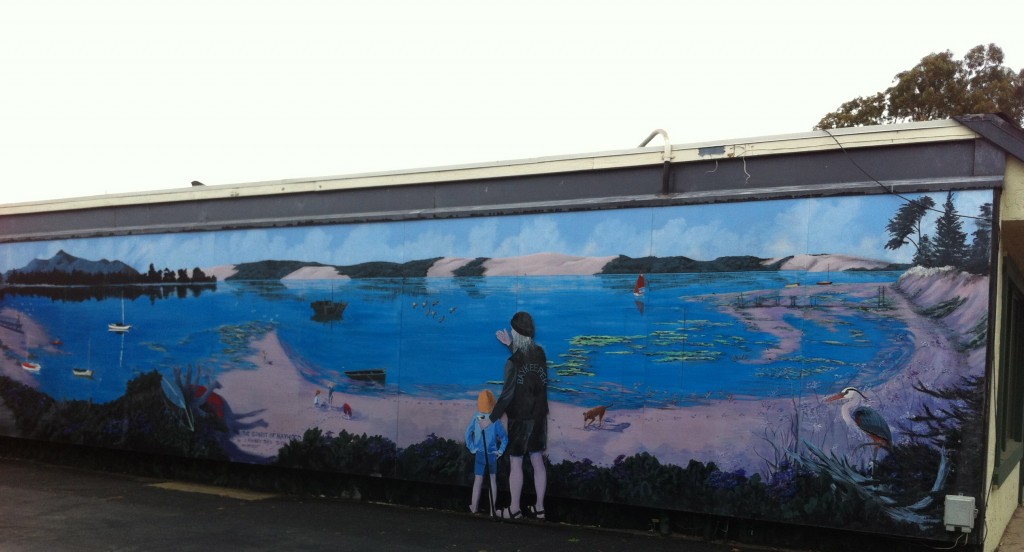 "When you set out on the path, the path begins to materialize, but not before."
– Susan Piver
Any adventure is a path. It meanders, it gets bumpy. It might even dead end. But if you keep moving forward, one step at a time, it will lead you where you need to go.
If you've been following my moving adventures to live on the Central Coast of California, the last you heard, I didn't get my "dream house" and I was waiting to hear about the back up man's house. (If you missed Part 1 you can click to read it here.)
Still, I had my going away gathering as planned and it was so lovely to have my friends and family all together, talking, eating, creating prayer flags for me to hang in my new home. There were no tears or sad goodbyes since I still didn't have a place or a moving date.
An hour before the party I saw a listing on Craig's list-not for a house like the "dream house" but for a furnished studio on the ground floor of a solar home a block from the bay.
It was not at all what I had been looking for.
But the idea of living in a small, temporary space that was furnished and in the prime-est of prime locations intrigued me. It could be a transition space, and I would just take the bare essentials for living and running my businesses.
I wouldn't have the pressure of paying a huge rent, I wouldn't have to hire a moving company to bring all of my belongings. I wouldn't even have to rush to connect with new clients.
I would use the space and time and my savings to ease into my new surroundings and explore how and what I want to create in my new world.
I shared the photos at the party and everyone was excited about this new option. It didn't matter that there wasn't a full kitchen since I rarely cook.
The space was big enough, full of light and the best part was how close it is to so many dog-friendly trails along the bay.
I replied to the ad with several questions and got a brief but incomplete answer. The next day the listing was gone.
Was this just another stone along the path, just to get me to consider this new option of a transition space?
I checked the listings for other studios and one bedrooms but found nothing as big or as close to the water as the no-longer-listed solar studio.
And then, finally, Mr. Back-Up House Man called to say no, he wasn't interested in renting his house right now.
BAM! It was official. I had no plan and no place to live. After three weeks of being comfortable with the not knowing, suddenly I was stressing and wondering if I was ever going to move.
I kept reminding myself that yes, I am meant to live there, that everything would unfold as it needed to and that I just needed to stay clear and focused on my WHY.
I envisioned how I would spend my days if I lived this simple life. I calculated how much I'd need to work and what kind of work I wanted to do in the first three months. I imagined walking with Laddy along the bay trails, breathing deeply and easily, the clean bay air healing my lungs and opening my heart.
Out of nowhere, I got an email from a realtor in San Luis Obispo, a colleague of a client's daughter, who wanted to connect even though she didn't do property management anymore. It was a wonderful reminder that things were working on my behalf, even without my knowledge.
And the next day I got an email from the furnished solar studio woman with updated information and a reposting of her ad. Seems she is in the middle of some big project and medical issues and can't deal with the rental until mid June, but, if I was "very very serious" I could call her.
Could I commit without seeing the space? Was I really ready to let go of all of my "stuff" and begin my new life small and simple and in a studio apartment?
I made lists of what I would need to bring: clothing, technology, inflatable bed, a few office supplies, linens, dog food, service for four. I imagined the fun of thrift-storing and yard sale-ing for the rest as needed.
I made more lists of what I could donate and what things I would box up and store at my dad's house.
I even pieced together the floorplan of the studio using the different pictures to figure out how the room was really laid out.
I called the woman the following morning. She lives in the upstairs part of the house with her Bichon Frise and calico cat. She is dealing with some health issues so the studio is not yet ready to see. But after her June 12 project, she'll hire some people to clear out everything that's currently being stored in the space and I'll move in on July 1st. Sight unseen, trusting that it will be clean and bright and furnished somewhat like the online photos indicate. I sent a small deposit with a note attached, outlining those expectations exactly.
It's a leap, for sure.
But it's grounded in a lot of faith and love. I know this is where I am meant to be. I feel so supported by my friends and family and clients. There is caution. And common sense. And getting everything in writing. But there is no fear. Really. Just a whole lot of open-hearted possibility.
"This unique home is located on the central coast of California–one of the last unspoiled areas in the state. It is a beautiful one-of-a-kind elegant home–professionally remodeled, in a great location, quiet area one half block to Morro Bay–off the Pacific. The Efficiency/"Studio" covers most of the downstairs, with windows on three sides and will be for rent in late June. I am a retired, and disabled professional who lives upstairs and is very quiet. A sweet little Bichon Frise dog and beautiful small calico join the family and are not a bother.
If not familiar with the area, a stunning "little" Big Sur is only a 7 mile drive with many, many trails. The home area is perfect for wildlifers, walkers, bikers and canoe/kayakers, (park boats permanently along the shoreline). There are actually three completely separate nature areas around; one is 1/2 block to the Bay and the blackberry patch, another is a block and 1/2 to Sweet Springs Preserve, a tranquil bird estuary, wooden bridges and benches, huge trees, and walking trials alongside the Bay. The third area one block away is 180 degree many acred walking and sand inlet for kayak/boat mooring and playing with your dog!
One must see inside the very large Studio to truly appreciate it. The Efficiency is a segmented room that has a small kitchen. Access to laundry provided. This architecturally special home (it's triangular!) has a 2.7 K full solar system on the roof, which supplies much of the electricity needs! Floors are bamboo, or fabulous cork that makes it one of the "greenest houses" in Los Osos. The Studio has high end Berber carpet and bamboo flooring in the full bath and two (one walk in) closets. It can be totally furnished and you may make choices in some cases, includes computer table, etc. The kitchen is easily partitioned off if desired. Refrigerator is 3/4. Lots of space and storage.
Available end of June, with minimum six to twelve month lease, renewable for responsible non-smoking, quiet person. References, pay for credit check to stay. $795/mo rent includes most utilities and furnishings (not necessarily what you see in photos). Two months deposit. Please make arrangements to see after June 15 and occupy shortly thereafter! Owner is occupied until that time and illness dictates not being disturbed until after June 15. Please e-mail after that time if interested.