I am in Baywood Park, parked in the wide lot next to where the vendors are setting up for today's Farmer's Market. Pop-ups are being raised, truck beds unloaded, fruits and flowers and crocheted hats are being laid out on cloth covered tables. A cool eucalyptus scented breeze blows through the window, giving me goose bumps.
While I wait for the market to officially open, I am writing and checking email, thanks to free wifi from the Merrimaker Market across the street.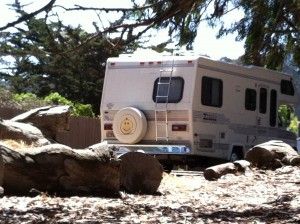 Before here, we parked along the bay trail on the dead end road next to Pecho By the Bay. What a perfect leash-free walk along the sandy trail that curves around the cuesta inlet.
Laddy met a younger dog with similar markings. They sniffed and smelled and I can tell that Laddy is getting more comfortable with these random meetings.
He romped down the bluff and waded into the water, chest high and happy. He sniffed the succulents and rubbed his face in the plants, keeping up with me the entire walk and coming every time I called him to me.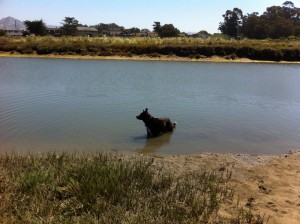 At the end of our walk I sat on a log looking out over the water while he laid in the sand, panting and resting and content.
And yes, this is everything I dreamed.  Working in the morning, writing, walking in cool, clean air. And now that I have this, what else do I really want?
I remind myself that I don't have to know right now. All I need right now is to be here. Enjoy this. Stay open hearted and allow the dreams to filter through.
And connect.
With strangers and acquaintances who live nearby. With the other campers at the RV park. With kind words and small gestures.
Like with the people at Maya's Restaurant, sitting down to lunch at the next table, with a man in a wheelchair wearing a helmet, obviously suffering from a brain injury. I eavesdropped on their conversation—the younger sister and her husband were teary eyed, observing, asking the caretaker about the man's condition.
After my lunch I went up to their table and put my hand on the caretaker's shoulder and told her what a gift and blessing she is. She was touched and said thank you. And I cried.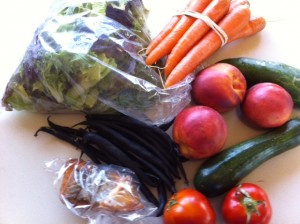 The market was delicious. Flowers, fruit, jewelry, jams. I bought a bounty: purple string beans, spicy salad greens, cucumber, zucchini, peaches, tomatoes and a small piece of smoked local wild salmon. I will be making a hearty salad for dinner tonight.