Laddy came up to my face this morning at 6:10 and so we were out and back from a short walk to the park by 6:30. I made coffee, we had breakfast and I turned on the water heater, preparing for a shower. But instead, I got back under the covers and slept for another hour.
I checked my email and other work-related things and then, finally, we headed out for a beach walk. It's a short two blocks from where we are camped, past the concrete factory and waste water treatment plant, around the corner and across the street to the sandy trail.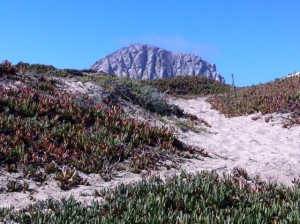 This time I took my shoes off as soon as we reached the sand. I tossed Laddy's Frisbee and he brought it right back, ready for a replay. After several throws I put him back on his leash and we headed to the water.
The walk was less hard. Not easy, but it felt more natural to grab at the loose sand with my toes and dig my heels in, propelling me forward. My calves screamed and my breathing was labored so we paused several times before we reached the solid sand.
And then we walked with a steady, easy rhythm into a cool ocean breeze. People smiled at Laddy with his Frisbee and I smiled back.
I stopped to look at the water, so many shades of blue and green even without my polarized sunglasses. But with the glasses I could name even more colors: midnight blue at the horizon, then marine blue closer in, the waves curling into seaglass blue, light and clear and then, closer still, the underside of the waves were the color of kelp, rolling toward the shore.
Laddy and I walked to the waterline where gulls and shorebirds stood in the low surf. The water rolled toward us, barely two inches high, but it startled Laddy. And it was cold.
It reminded me of the time when he was a puppy, less than two, and we took him to Moonstone Beach near San Simeon, several miles north of Morro Bay. We were watching him in the surf and suddenly, a huge wave covered him. He disappeared for a very long, panicky moment. When he reappeared, he shook himself off and bounded to us. A woman standing nearby said we were lucky, that the beach had dangerous rip tides and many dogs had been pulled out into the ocean.
Today, neither one of us had any interest in getting wet beyond our feet. In fact, we didn't stand in the water very long. We were both more interested in walking.
The trek back through the soft sand was less difficult, the sand warmer on my bare feet than it was earlier. We stopped at the log so I could breathe and rest and put my shoes on for the walk back to home.
It is now noon and I've had lunch but I still haven't showered. Most of the weekend campers have pulled out so we have the park almost all to ourselves. The sky is clear and blue and a perfect breeze catches the neighbor's blue awning. I could sit here all afternoon, just taking it all in, but it's supposed to be laundry day. So I will gather my clothes and my detergent and my quarters and check out the laundry facilities here.