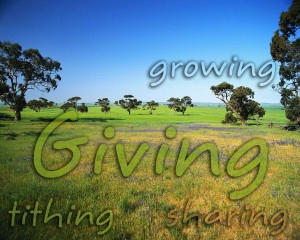 We've all heard that it is better to give than to receive.
Giving and doing for others is the fastest way to get out of depression and woe is me. The selfless act of doing something for another human being or animal or nature or cause can fill the heart with pure wonderfulness.
And the best part is, we think we are only giving and often, what we receive in return is even bigger.
Last week I had the honor and privilege of facilitating a workshop at the local senior community center that my Dad enjoys. My mother used to love going to the center for the activities, the people, the sense of community.
I wanted my workshop to honor my mother and her time at the center and so I shared some of the tools and practices that helped her  maintain a positive attitude, despite her health challenges, age and circumstances.
I invited the attendees to draw a big heart on their papers and write inside of it all the things they love. Then each person stood up and read their list out loud, filling the room with so much positive energy.
We talked about how, when we choose to focus on the things that bring us joy, our bodies don't ache as much, we forget about the negativity in the world and we don't feel so alone.
We talked about paying attention to what makes us happy and living with an attitude of gratitude. Then went around the room, sharing something we are each grateful for.
We talked about how good it feels to be able to do something for someone else. And even though we would sometimes rather be able to do something ourselves, letting someone do something for us is a wonderful gift that we can give another person.

It was a real pleasure to work with these brave, wise folks. We had a lot of laughs and we all learned something about living from the heart.
But more than that, it was such a gift to be with people who knew my mother, who came up to me and shared a memory of her, of how much they liked her and admired her and missed her.
I was surprised by the experience. Standing in the middle of the room that was filled with everyone else's gratitude and love, my own heart was truly overflowing with gratitude and all that I had given and more: it was filled with all that I had received.
How do you give?
Do you take care of someone in your family?
Do you belong to a committee?
Do you tithe a portion of your earnings?
Do you donate money to a favorite charity?
Do you volunteer your time and special gifts?
I'd love to hear how you give back. Please share your story with me and my readers on the blog at www.sparktheheart.com