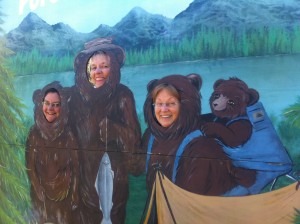 I didn't know Yvonne. But she knew me. She was the vice-president of the local Mac users group and had been reading my Mac Tips newsletter for years. Several months ago she had invited me to give a presentation to the club and that's when I first met her.
She was so thrilled with the presentation that, afterwards, she said," You know, I'd love for you and your friend to come up to visit us at our cabin in Michigan this summer."
I graciously said thank you, that I'd think about it.
But I had no intention of following through.
I didn't know Yvonne. I couldn't even begin to fathom staying with people I didn't know and I had no plans to vacation in Michigan again.
And so I forgot about the invitation completely.
And then mid-summer, Yvonne emailed me from her cabin and repeated the invitation, reminding me that her friend Mery, who lived next door, was also one of my subscribers and they'd love to show us around their little part of the world."
When someone invites you once, it may be a courtesy. But when they ask again they mean it.
And so I asked Marika if she was up for the adventure. And she said YES!
We decided that a whole week with strangers might be too much, so we planned a wonderful exploration of the western coast of Lake Michigan, up to Lake Superior and then down to the ladies in Land O' Lakes.
It was a great time. We climbed up lighthouses, tasted those famous Upper Peninsula pasties (the compact meat and veggie pastry that the miners eat for lunch) and got to wear layers and jackets in the middle of September.
We kayaked 15 miles through the Seney Wildlife Refuge, toured the Marquette Maritime Museum and learned all about the wreck of the Edmund Fitzgerald.
We saw eagles and deer, loons and elk and a wonderful junkyard art sculpture garden.
But some of the best times were with Yvonne and Mery. The moment we pulled into Mery's driveway, we felt like like old friends. There was no uncomfortableness, no hesitation, no wishing we hadn't come.
They took us on a day trip along thickly treed roads up to the Porcupine Mountains and on a night adventure to the mysterious Paulding Light.
We sat around Mery's table playing new card games and laughing, already recounting the stories of our adventures, how we lost the car at the falls parking lot and how they were out of everything except french fries at the Friday night fish fry.
We are already old friends. And we have plans to get together in Arizona this winter, once Yvonne and her husband return for the season.
And none of this would have happened if I had been too fearful, too inflexible, too wary to say yes to a genuine invitation.
So consider this, the next time someone asks you to do something that feels uncomfortable, out of the norm, even a little adventurous, take some time and think about what great gifts you might reap if you said YES!