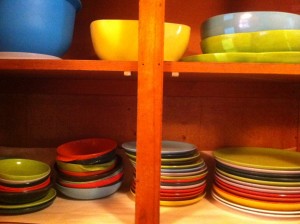 It is a simple joy
every morning
to choose my breakfast plate:
lime
forest green
raspberry
black
orange
gray
white
turquoise
all Colorflyte by Branchell, from the 50's
collected over the years
from thrift stores, yard sales, on eBay
because food is more delicious when served on the perfect color
Too often we are so focused on the giant billboard kind of happiness that we neglect to notice the small and ordinary moments that bring us real joy. I invite you to slow down, to notice the small things, the simple joys.
Let's compile a list of our Simple Joys–Click on the Comments below and share something that makes you smile and lifts your heart.