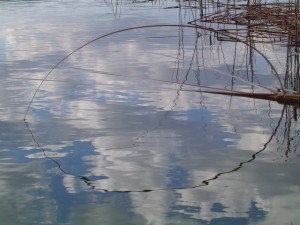 We all lead very full lives. We have people to see, places to go, to-do lists a mile long. I used to have a lot more down time in my days to balance out all of the activity, but with all of this upleveling and expanding, I sometimes find myself racing, both literally and figuratively.
The other day I got in my car and I felt like I had just downed a full pot of French roast coffee. I was so hyped up with all the ideas and to-do's in my head that I turned the wrong way out of my driveway and didn't realize it until I was 2 blocks away.
When I'm behind the wheel I want to be fully present, focused, alert. I absolutely did not like that feeling of scattered crazy busy energy.
So I created a new ritual for calming myself before driving.
I get into my car an extra few minutes before I need to leave and I just sit in the driver's seat and breathe. I focus on my breath, letting go of the list of things I need to do. I breathe until I feel a calmness settle into my whole body.
And I put in my CD of Driving Mantras. It is a collection of soothing kirtan chanting music. I love that these sacred Sanskrit chants are in a foreign language so that I don't get emotionally triggered by the lyrics.
The general meaning of the chants is about connecting to a higher power, asking for compassion, enlightenment, well being.
The music takes me out of my busy head and creates a great calming that actually expands me. Raising my voice, singing out loud is like a love song from my heart to the universe.
This new ritual helps me feel more relaxed, more focused, more present behind the wheel. I don't feel rushed or frantic and I'm sure I am a more patient, more courteous driver, too.
I invite you to create your own Calm Driving Ritual before you get behind the wheel of your large automobile. It will help you enjoy the drive, the road, your journey from here to there.
For more information about kirtan chants, visit: http://hinduism.about.com/od/audiomusic/a/kirtan.htm
My Driving Mantras playlist (all available on iTunes):